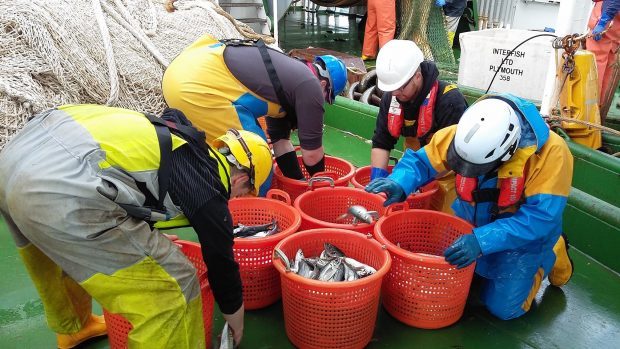 West coast trawlers were involved in a pioneering survey aimed at improving knowledge about the health of their valuable herring fishery.
Six boats took part in the project, which will provide vital data for scientists and – further down the line – inform future policy-making.
Acoustic and biological information gathered by the vessels will contribute to stock assessments by the International Council for the Exploration of the Sea (Ices), the scientific body which advises on annual quota limits and other management measures.
West of Scotland herring was chosen because even though it is believed by fishermen and scientists that southern and northern areas contain different stocks, the data needed by Ices to make the distinction is not currently available.
Existing catch and survey data only covers times when fish from the two areas are mixed together.
The ground-breaking project is being co-ordinated by marine scientists Steve Mackinson, who was appointed earlier this year as chief scientific officer for the Scottish Pelagic Fishermen's Association (SPFA), Scotland's representative body for herring and mackerel fishermen, and Martin Pastoors of the Pelagic Freezer-trawler Association (PFA).
Mr Mackinson said: "Due to constraints on resources, there is often a shortfall in information from marine scientific surveys carried out by national governments.
"It, therefore, makes good sense for the fishing industry to contribute to the scientific process.
"The scope of the activities of our fishing boats and the wide sea area they cover offers the ideal platform for collecting relevant marine data that might otherwise not be possible."
Mr Pastoors said: "Identifying the different herring stock components within this area and their relative abundance will lead to better decision-making on the sustainable management of the fishery."
The project is an international collaboration involving the SPFA and PFA as well as fishermen and scientists from Marine Scotland, the Scottish Fishermen's Federation, the Dutch Institute for Marine Resources and Ecosystem Studies, Germany's Thuenen Institute, Marine Institute Ireland, University College Dublin and Killybegs Fishermen's Organisation.
There are plans for further surveys off the coast of Ireland later this year. Highlights from the Scottish research are being presented at the Ices Annual Science Conference in Riga, Latvia, this week.
Though nowhere near as valuable as fellow pelagic species mackerel, landings of herring by Scottish boats were still worth an estimated £21million last year.