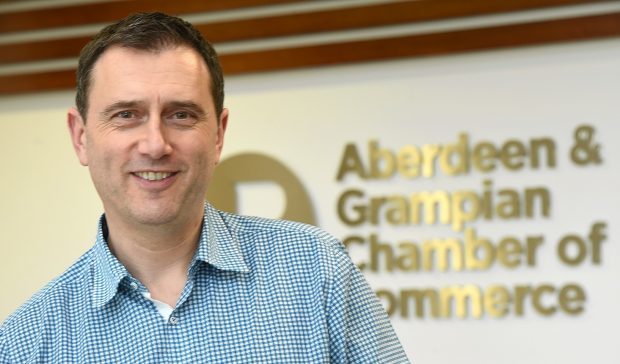 North-east firms abiding by social distancing rules have been left at a competitive disadvantage to their English rivals, it has been claimed.
Aberdeen and Grampian Chamber of Commerce has urged the Scottish and UK governments to work together to close loopholes in coronavirus guidance, as competitors down south continue to operate while north-east business has ground to a halt.
The plea for a nationwide universal policy is one of a list of 10 priorities the chamber has set out in a letter to all MPs, MSPs and government ministers.
Chief executive Russell Borthwick penned the letter amid statistics that "don't make for great reading".
Analysis by the British Chambers of Commerce has shown around 60% of firms have three months cash in reserve or less – while the Centre For Cities recently warned  Aberdeen is the UK's fourth most vulnerable to the economic impact of the pandemic.
Mr Borthwick told the politicians it is vital that emergency funding makes it way to companies "as soon as practically possible", as that is "the single best way to protect jobs and ensure our regional economy is supported to weather and emerge strongly from this economic storm".
More than 70% of firms have furloughed staff, according to the chambers' analysis.
Members would like to see continuing flexibility and extension of the furlough scheme to allow support for sectors such as hospitality, which are likely to feel the effects of lockdown longer than others.
The chamber also suggests workers could be phased on to part-time furlough as the economy warms up and wants the government to improve the effectiveness of its business loans scheme.
In his letter, Mr Borthwick also pushed for "much-needed breathing space" in Scottish rules around business rate help – including allowing more businesses to claim relief for empty properties.
Currently firms are being left liable for full rates because they are unable to remove items from the premises due to social distancing rules, which Mr Borthwick claims means they are being charged for "doing the right thing".
He also advised Holyrood to reinstate "economic change of circumstances" a right of appeal against the property-value-based levy.
Furthermore, with higher properties values than average in the north-east, many companies have been left unable to access Scottish Government grants for the retail, hospitality and leisure sectors.
Mr Borthwick claimed the upper limit of £51,000 rateable value means there is "an entire tranche of small independent businesses" not receiving support – and said it should be nearly doubled to beyond £95,000.
He continued: "This sector is vital to our regional economic strategy and our national tourism ambitions.
"We would therefore urge government to explore the lifting of this cap to ensure they are not disadvantaged.
"Business rates are major upfront cost to firms at a time when many have no or hugely reduced incomes.
"The much higher than national average rates in place in this region represent a significant source of pressure."
Mr Borthwick has also given his support for a resilience support package for the oil and gas industry – where people are "working night and day to keep the lights on across the UK".
In the coming days, industry bosses are to bring forward proposals for the help needed.
He also warned without extra support for the aviation industry Aberdeen was at risk of becoming a "distant northern outpost", such is the regional dependence on air connectivity.
Mr Borthwick's intervention comes as the latest ONS figures showed nearly a quarter – 24% – of firms have temporarily halted trading in response to the coronavirus crisis.
The accommodation and food services activities sector had the highest proportion of businesses that responded their turnover was "substantially" lower than normal, at 87%, according to the report.
A UK Government spokesman said: "The UK Government is working flat out to tackle the coronavirus pandemic.
"The Scottish Government has been allocated nearly £3.5billion to support public services in Scotland.
"That is on top of an unprecedented package of UK-wide support for businesses and individuals, totalling £330billion.
"We will continue to work closely with the Scottish Government to do everything possible for businesses in the north-east and across the nation."
The Scottish Government was also contacted for comment.