A north-east ice cream magnate has described his plans to expand his empire by creating his first ever sit-in parlour – some 105 years after his firm was founded.
Managing director of Rothienorman-based Mackie's, Mac Mackie, last night said he was keen to "seize the opportunity" to be among the first tenants to enter the £107million Marischal Square development currently under construction in Aberdeen's Broad Street.
He said that with the opening of the new site, along with the partial-pedestrianisation of the street about to begin, the firm felt it was time to branch out and open its own shop.
Over the past few years, a slew of ice cream shops have sprung up around the city capitalising on a boom in the informal dining.
But Mr Mackie is confident that despite the competition and tough economic circumstances his venture will still prove successful.
Marischal Square has been controversial since it was first approved with many in the city fearing the impact on the view of the iconic Marischal College.
There is also a financial risk to the council which will need to take in £5million a year in rates to break even.
Last night the businessman said: "It's an idea we have been toying with for many years about if we should open our own retail outlet.
"Out of that we decided to maybe expand out and an outlet seemed to be a good way to expand brand awareness.
"We've been busy selecting designs for the outlet and are now down to two or three to choose from, hopefully we will be set up in August.
"It will be both a coffee shop and ice cream parlour which we think is a still a growth area."
Mr Mackie said there were also plans to expand the range of ice creams they produce for the parlour.
He added: "There is lot of competition out there but I think if you have a good concept, good design and good location then it can work.
"All our ice cream comes from the farm just outside Inverurie.
"On opening we will do an expanded range for the parlour and we are getting a gelato machine that will also offer a different alternative.
"Aberdeen City Council are obviously putting a large amount of money into that area of town with Marischal College as a backdrop.
"We thought it was a good time to seize the opportunity."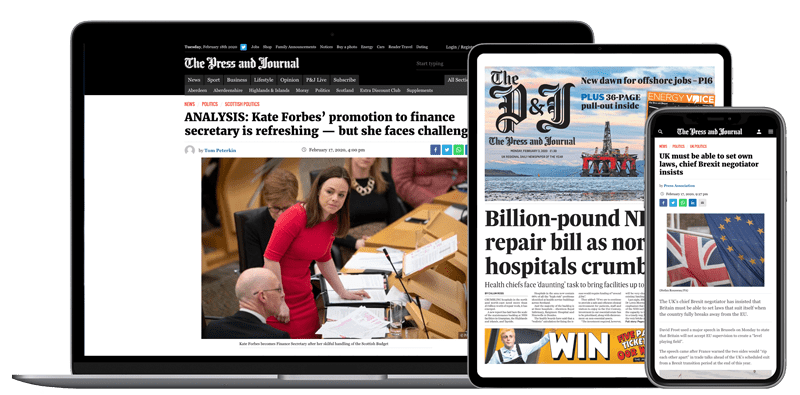 Help support quality local journalism … become a digital subscriber to The Press and Journal
For as little as £5.99 a month you can access all of our content, including Premium articles.
Subscribe