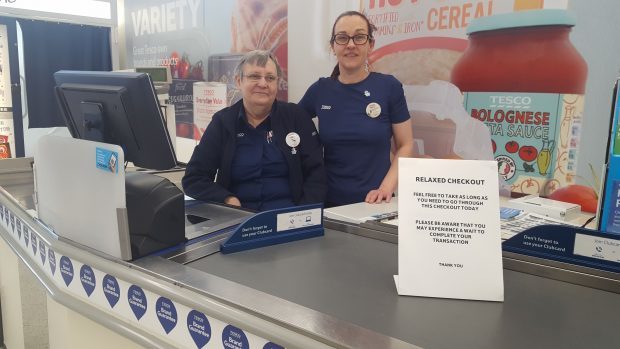 Tesco has introduced Scotland's first relaxed supermarket checkout scheme to allow customers with Alzheimer's extra time to chat with a cashier.
The supermarket giant installed the lane which hopes to take the stress out of supermarket shopping by allowing the public to take their time at the checkout.
It is hoped that the unique scheme in Forres, Moray, will also be able to help people with social anxiety issues, depression and autism or any one who wants to "take things a little easier".
A sign at the checkout reads: "Feel free to take as long as you need to go through this checkout today.
"Please be aware that you may experience a wait to complete your transaction. Thank you."
Although it is aimed at people with a medical condition the lane is open to all customers and will be staffed by workers who have been trained by Alzheimer Scotland.
Tesco community champion Kerry Speed developed the checkout after she held one of her regular dementia information sessions.
She said: "Our new relaxed checkout is open to all.
"Whether a customer has a medical condition which requires them to take things a little easier, or they value an extra couple of minutes to chat to their checkout advisor, we want them to be confident they can shop at their own pace.
"It was highlighted to me that people living with dementia can feel under pressure when they reach the checkout, and it struck me that this could be true for others as well.
"Early feedback from customers has been very positive. Although it's a simple gesture, we hope this will make a difference to our customers' shopping experiences."
Wendy Menzies, Dementia Advisor at Alzheimer Scotland, said: "As part of our ongoing Dementia Friendly Community work we engage with many businesses and workplace organisations both nationally and locally.
"We have supported the local Tesco team at Forres to help raise awareness of dementia and the steps they can take to help make a difference to the lives of people with the condition in the Forres area.
"During our discussions with staff we have looked at ways to create a dementia friendly environment on the shop floor.
"We welcome this new pilot scheme which will help people with dementia to feel confident in continuing to shop independently in their local community for longer."
The relaxed checkout pilot scheme operates on Tuesday and Wednesday mornings at Tesco in Forres.