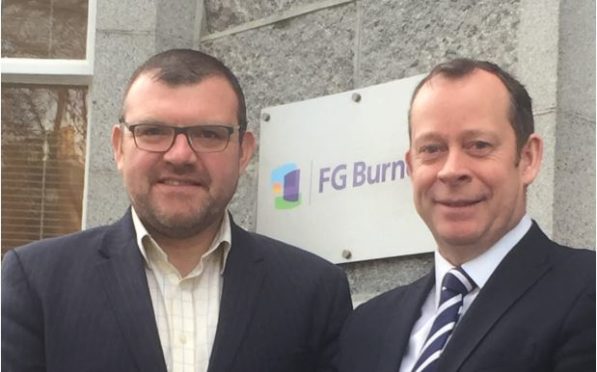 Bosses at commercial property consultancy FG Burnett have toasted a successful year, with the firm at the heart of a third of all office deals in Aberdeen during 2019.
The Granite City-based company said yesterday it was involved in 92 transactions across the office, retail, industrial and development sectors last year, representing a deal every three business days.
It was involved in Aberdeen office deals for more than 170,000sq ft during 2019, equating to 33% of the total take-up.
While FG Burnett's involvement in a majority of these transactions saw it representing the landlord or vendor, there was an increase in tenant representation work, for both existing clients and new entrants into the oil and gas market.
Nineteen and 29 industrial and retail deals were completed respectively last year, with development projects making up the rest of the firm's total workload.
Head of agency Graeme Nisbet said: "The number of deals recorded is testament to the hard work of the agency team and the wider support of the company.
"We have been operating in a very difficult market for the last few years due to the oil and gas downturn, which has had a direct effect on the local property market with supply and demand at opposite ends of the spectrum.
"Thankfully, we are now seeing more positivity in the market and this has translated into renewed demand, and for the first time in four years supply levels in the office and industrial markets have reduced.
"There are still challenges ahead but with these comes opportunity."
FG Burnett, nearing its 60th year, has more than 30 staff on its payroll.
Its news of a busy 2019 comes hot on the heels of industry figures showing office transaction activity in Aberdeen last year hit its best level since the oil price crash of 2014.
More than 500,000sq ft of office space was transacted in 2019, an increase of 32% on 2018, according to data revealed by property giant Knight Frank.
Key deals last year included EY, KPMG and Chevron agreeing lettings for office space in the prestigious Marischal Square development.