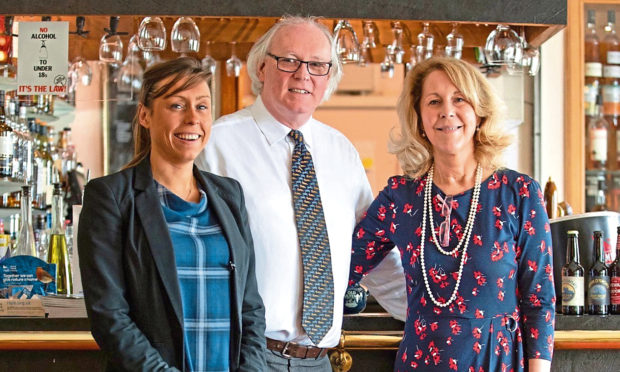 A Highland hotel has reached a remarkable milestone after notching up 65 years of ownership by one family.
Yesterday Murray Lamont, the third generation of Lamonts to own Mackays Hotel in Wick, said he was optimistic about its future, although the anniversary Champagne was being kept on ice as he and his wife and daughter work to protect the business during the Covid-19 crisis.
Dating back to 1833, the 30-bedroom establishment on Union Street in the Caithness town was bought by Mr Lamont's grandmother in 1955.
Mr Lamont started as a cellar boy at the age of eight, took over as manager in 1983 and, with his wife, Ellie, bought it from the rest of the family in the 1990s. They have since been joined in the business by their daughter Jennifer.
The award-winning hotel employs 25 people and attracts around 54,000 visitors each year.
Mr Lamont said: "We're incredibly proud to have reached this significant milestone for our family-run hotel and as an integral part of local community life here in Caithness.
"We pride ourselves on our warm Highland welcome to guests from across the world every single year and look forward to continuing that tradition for many years to come."
During the Covid-19 lockdown, Mackays was closed to all but a handful of shielding key workers and the Lamonts worked with Legion Scotland to provide self-isolating veterans and pensioners with hot meals, as well as running a home delivery food service in and around Wick. Social distancing regulations mean the hotel is operating at one-third of its normal capacity.
Mr Lamont added: "It's been pretty tough and a challenge for the staff, ourselves and our customers. We had planned to have a summer or autumn celebration but are putting that off for the time being. We are optimistic for the future, though, and working hard to build the business back up."