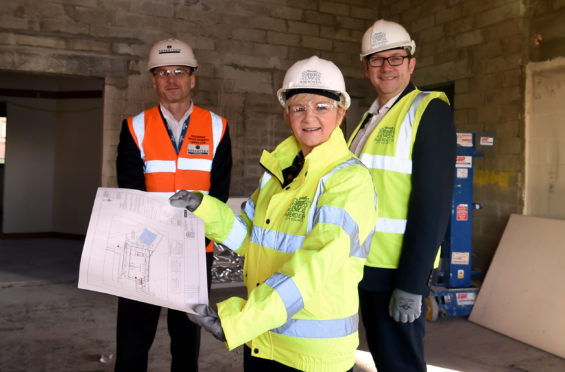 Council bosses have hailed the £23million project under way to to expand early years learning and childcare provisions in Aberdeen.
New nurseries are starting to take shape across the city in preparation for the roll out of the extended programme later this year.
Work is being undertaken on 27 sites across the city and will include the development of completely new nurseries.
Yesterday, council co-leaders visited Seaton where one of the new builds is now under way.
Councillor Jenny Laing said: "We are committed to providing the very best starts in life for our children and young people and that is why we are making a huge investment in new and upgraded nurseries across the city.
"We are not only delivering on our duty to provide expanded early years learning and childcare hours but we are ensuring that children receive this enhanced offering in the best facilities and settings possible."
Aberdeen council chiefs have committed to expanding the provision of funded early learning and childcare from 600 hours to 1,140 hours by August 2020.
The council has also announced in addition to the £23m investment, there will also be an additional £1m in grants available to partner providers.
The plan is hoped to be completed in three phases, with the first two will look to re-model or extend existing schools and nurseries.
A new nursery will be built at Danestone School in the third phase, along with minor alterations at Dyce, Glashieburn, Greenbrae, Kittybrewster, Forehill, Fernielea, Scotstown and Walker Road.
Council co-leader Douglas Lumsden said: "Our ambition, right from the outset, has been to support children's educational development, close the poverty-related attainment gap, and to support families in a local setting."