World-renowned violinist Nicola Benedetti was among those honoured by Robert Gordon University during a ceremony to mark the importance of creating equal opportunities for young people.
The classical musician was originally earmarked to receive an honorary doctorate of music in 2013, however neither the university nor Miss Benedetti were able to co-ordinate their diaries until yesterday's ceremony at the Garthdee campus in Aberdeen.
She described the award as a "huge honour", before playing a Bach piece on her 1717 Stradivarius violin.
Also honoured was Mark Williams, chief operating officer of Streetsport, a community sport initiative that has been credited with helping to secure an 80% drop in youth crime and anti-social behaviour in participating areas of Aberdeen.
Professor John Harper, principal of RGU, said: "Nicola Benedetti and Mark Williams have both made a significant contribution to transforming the lives of young people by increasing access to music and sport to raise potential and build creativity, discipline and skills."
Having left school at 15, Miss Benedetti has risen to become one of the most successful classical musicians of the 21st century, and was made a CBE last year.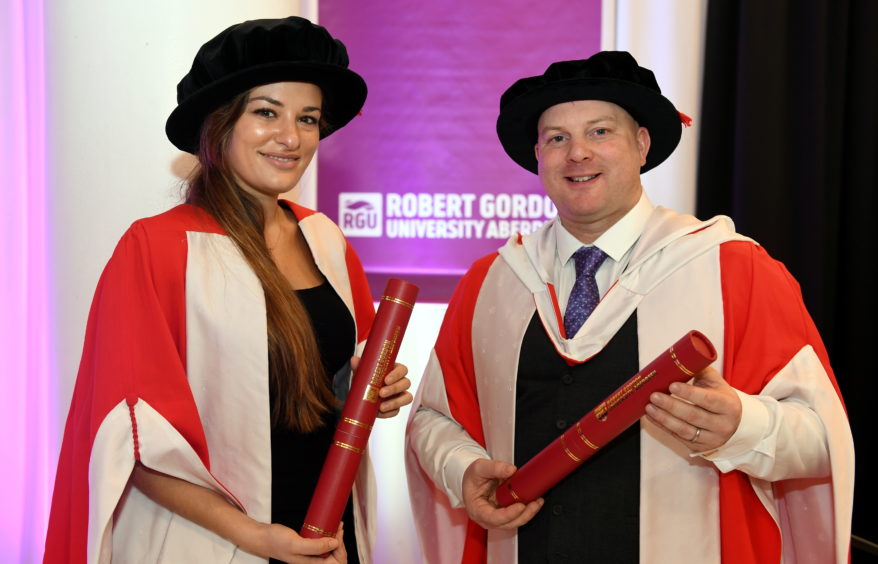 She is also one of the world's leading advocates for quality music education, the role of arts and culture in the wider community, and the transformational effect it has on young people.
Throughout her career she has been committed to education projects and in the past 12 months has worked with over 4,000 students and 700 teachers through her Benedetti Foundation.
"To be honoured for the work I do in trying to help and educate others means a huge amount to me and I'm very grateful," Miss Benedetti said.
"The hope is that if we make music education as available as possible and talk about it as loudly as possible then more people will be inspired."
Mr Williams, who was made a Master of the University, has been instrumental in the development of Streetsport, which was introduced in 2006 as a partnership between RGU and Police Scotland to tackle youth crime in Aberdeen.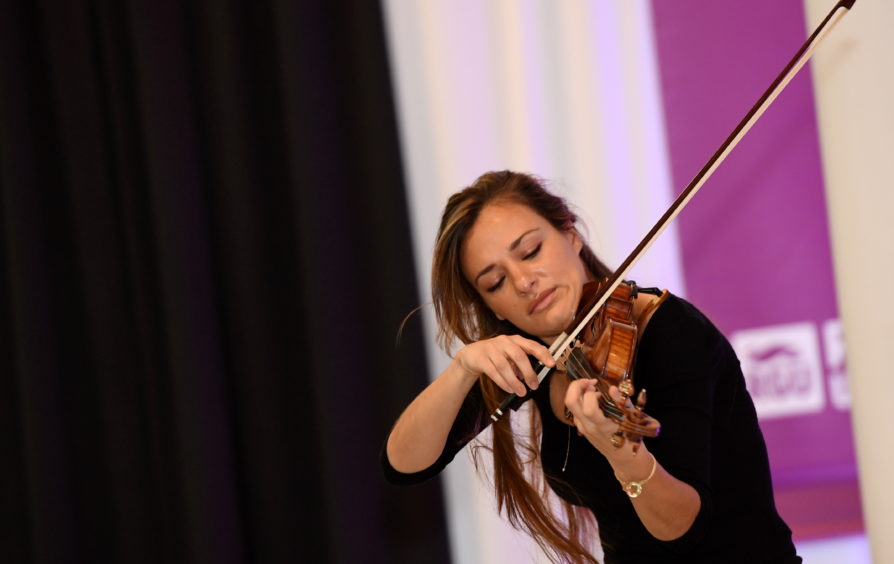 Now run with the support of the Denis Law Legacy Trust, the programme delivers free weekly sports and activity sessions for young people in areas of high youth annoyance and deprivation.
"I'm incredibly honoured and humbled to be receiving this recognition from RGU," said Mr Williams.
"Seeing young people thrive because of what we do is truly motivating and inspires all of us within the Trust to do more each day."