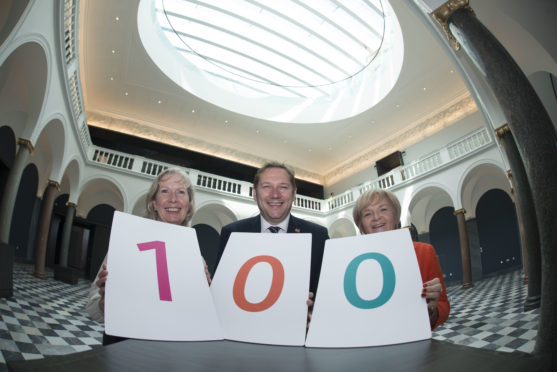 Only 100 days before the long-delayed re-opening of Aberdeen Art Gallery, the city council is still pleading for thousands of pounds in public donations to cover the cost of its regeneration.
The £34.6 million revamp of the city centre attraction was initially planned for completion at the end of 2017.
But four years after it closed its doors, the public will be finally allowed entry on November 2.
Its overhaul was originally priced at £30 million, the Heritage Lottery put £10 million towards to project, on top of another £10 million from the council, with the remainder to be covered by public donations.
The latest funding drive total, however, secured less than half of what was needed.
On a visit to the A-listed Victorian building, the co-leaders of Aberdeen City Council Jenny Laing and Douglas Lumsden pushed for citizens to put their hands in their pockets.
The council is urging the public to "follow in the footsteps" of civic minded individuals who contributed towards the gallery's founding in 1885.
Mrs Laing said: "Aberdeen Art Gallery has undergone a once-in-a-lifetime transformation.
"In just 100 days it will re-take its place as the city's most inspiring, accessible and welcoming public building, there for all to enjoy, for generations to come."
Supporters pledging £2,500 or more will be given recognition in the newly refurbished gallery as a founder patron.
The latest to do so – in memory of his late parents – is Joe Whimster.
He said: "For me, the donation is partly in memory of my mum, but also a bit of payback for all the great experiences we have had in the art gallery over the years."