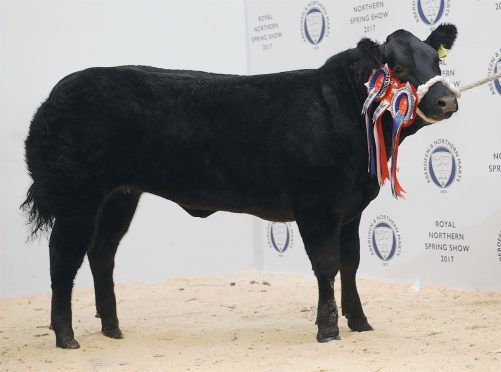 Well-known commercial cattle breeders John and Craig Robertson set a new Royal Northern Spring Show price record yesterday.
The father and son duo, who run 170 cows at Newton of Logierait, Pitlochry, were left celebrating when their home-bred Limousin cross heifer sold for £9,000.
The April-2016 born beast, named Pepper, landed the overall champion rosettes at the show of exhibition cattle – a key feature of the Royal Northern Spring Show, which is organised by the Royal Northern Agricultural Society and held at Aberdeen and Northern Marts' headquarters at Thainstone Centre, Inverurie.
A record number of farmers flocked to yesterday's show which was also attended by the society's patron Princess Anne.
The Robertson family's champion Pepper, which weighed 416kg, was on her first outing. She is one of the first calves from the 6,500gn Calogale Irresistible. She was snapped up by Bill Stewart, of Greenfold, Bridge of Marnoch, Huntly, on behalf of a telephone bidder.
The £9,000 bid set a new Spring Show record and a new best price for the Robertsons at Thainstone.
The pre-sale show judge, Lin Pidsley, who travelled all the way from Upton Ley Farm in Honiton, Devon, said she had been looking for a beast with style, correctness and balance.
The Robertsons were also responsible for the next three leading prices of £6,050, £3,000 and £2,600 – in total the duo sold six beasts for £26,450, representing an average of £4,408.30.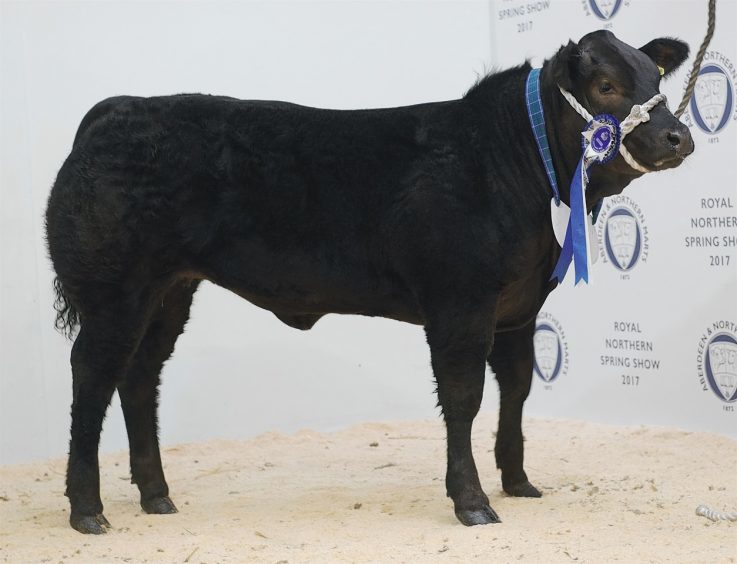 Landing the family £6,050 was a home-bred second-prize winning April-2016 born Limousin cross heifer, weighing 342kg, by the same sire as the overall champion. She sold to well-known show calf producers from Devon – Mike and Melanie Alford.
Selling for £3,000 was March-2016 born Limousin cross heifer, by Lodge Hamlet, and bred by W. Kennedy of Dornoch. She sold to John Lumgair, East Idvies, Letham, Forfar.
The next best from the Robertsons at £2,600 was the reserve bullock champion – a home-bred December-2015 born Limousin cross named Cameron. He sold to well-known show calf producer Blair Duffton, of 2 Bogie Street, Huntly.
Another lot selling for £2,600 was an home-bred March-2016 born Limousin cross heifer from established show calf producer Wilson Peters, Monzie Farms, Gilmerton, Crieff. The buyer was D. Blair and Son, Littleinch Farm, Balmerino, Newport on Tay.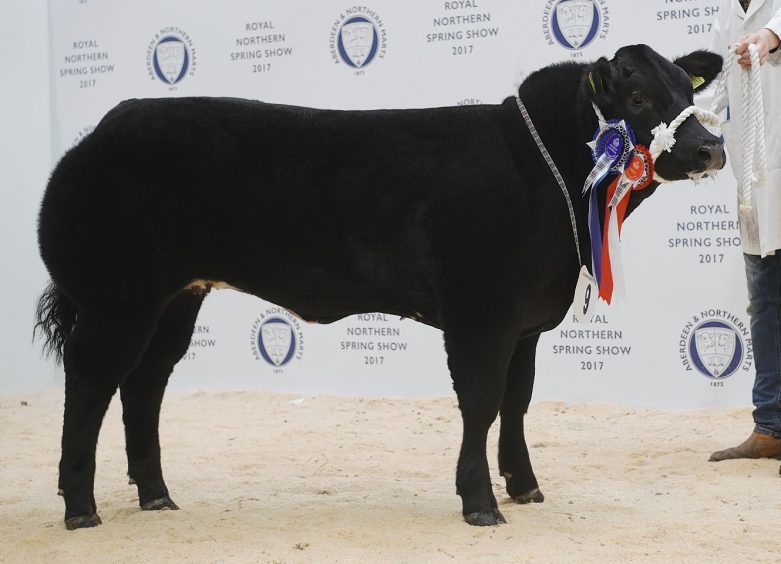 Standing reserve overall champion in the show was another Robertson father and son duo – Mark and Michael of Fodderletter Farms, Tomintoul.
Their champion beast, which was not sold as the pair want to keep her for showing later this summer, was June-2016 born British Blue cross heifer Rachel. She was bought privately in October from Alistair Robson, Old Manse, Huntly, and stood overall champion at the Rising Stars Calf Show at the Christmas Classic last November.
The average for the 14 heifers sold was £5.81 a kg and £2,469.29 a head. The 12 bullocks sold to an average of £3.20 a kg and £1,407.50 a head.
This compares to 19 heifers at an average of £4.72 a kg and £2,121.05 a head last year, when nine bullocks sold to an average of £2.81 a kg and £1,286.67 a head.