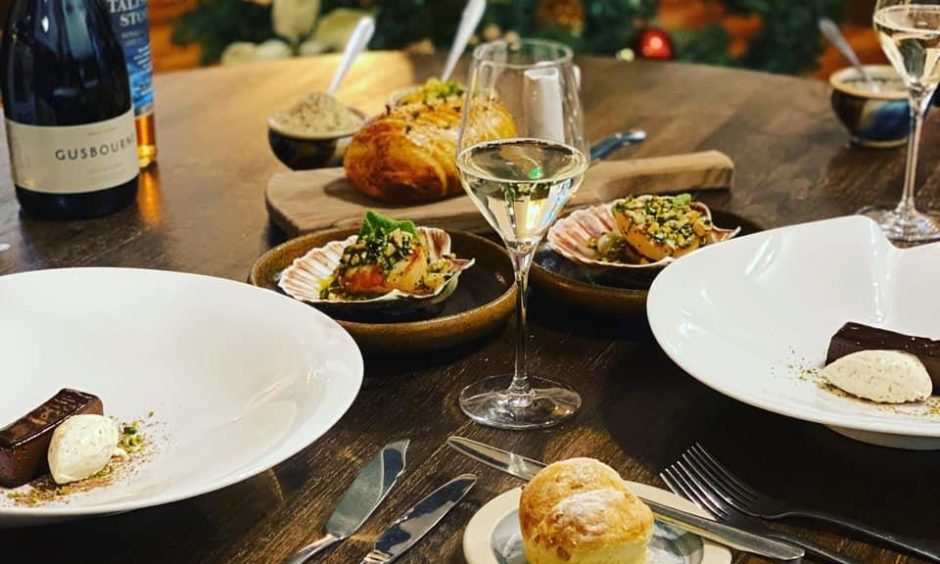 With the festive season just around the corner, here are the restaurants in the north and north-east of Scotland where you can order food for Christmas.
Whether you love to stay at home or enjoy changing up traditions and going out for Christmas, nothing tastes better than the feast of the day being cooked up by someone else.
That someone else could quite easily be a top chef from your favourite restaurant as many venues are now offering their own Christmas Day dinner options which can be delivered straight to your door.
And to bring a little sparkle and luxury to your day, these venues from across the north-east, the Highlands and Islands, and the rest of Scotland will do the majority of the hard work, so you don't have to.
See our list of eateries offering Christmas dinner at home below…
---
Kirk View Cafe & Bistro – Aberdeen
This popular cafe and bistro on Union Terrace in Aberdeen is offering up their classic Christmas dinner at home for hungry diners keen to enjoy their fare.
The three-course turkey dinner is priced at just £25 per person and will feature some of Kirk View Cafe & Bistro's favourite suppliers – and will be expertly cooked up by their talented chefs.
There are vegetarian alternatives too, and the option to add cocktails for £5.
You can also enjoy the turkey roast dinner when visiting the cafe this December.
Call the venue and speak with the head chef Heather directly to discuss the menu.
Contact details: Call: 01224 638 388 or email: kirkviewcafe@gmail.com
---
Eat on the Green – Udny Green, Aberdeenshire
As well as offering their traditional Christmas menu which incorporates a whole lot of eating with five courses, Eat on the Green based in Udny Green, Aberdeenshire has a Christmas Day Eat from the Greeen experience for two.
Vegan, veggie, gluten-free and dairy-free menus are also available to enjoy for those with dietary requirements and intolerances.
This five-course meal priced at £99 includes haggis bon bon canapes, two starters, a intermediate soup before a traditional turkey main with trimmings. Followed by a sticky toffee pudding dessert and a festive petit four to finish.
They also have a range of side orders to pick from, including a fish course, roast potatoes, pigs in blankets, skirlie and more.
But what's Christmas dinner without the best drinks? The restaurant is also offering wine pairings for each course, dessert wines, assorted Christmas cocktails, Champagne packages, prosecco and more.
Contact details: Call: 01651 842337 or email: enquiries@eatonthegreen.co.uk
---
Donald Russell – Aberdeenshire
Award-winning fine food supplier Donald Russell are offering Christmas dinner options in their online shop covering all elements of Christmas dinner including meat, fish, veg, pigs in blankets, pies, wine and more.
It has a range of Christmas dinner boxes ranging in serving sizes from 5-10 people, priced at £65 for a Gourmet Christmas Dinner Box to £130 for a Carvery Rib Roast Feast.
All boxes are accompanied with traditional sides and trimmings to complete the meal.
Food is available to order online through their website or using the contact details below.
Contact details: Call: 01467 629 666 or Email: hello@donaldrussell.co.uk
---
Kate's Bespoke Catering – Aberdeenshire
Due to popular demand Kate and Liam from Kate's Bespoke Catering are offering Christmas lunch boxes for a second year.
Priced at £35 per person, these Christmas boxes come fully prepared and only require heating at home.
For starters you can find a chicken terrine followed by a stuffed turkey escalope with all the trimmings. And ending the meal is a clementine panna cotta with some of Kate's homemade shortbread.
With various collection points along the north-east, these Christmas boxes can be collected on Christmas Eve, removing some of the stress of pepping the night before the big day.
Contact Details: Call: 07873 633 360 or email: info@katesbespokecatering.com 
Bookings available up until December 18
---
Home X's Christmas by Nico – Scotland wide
You've probably heard of chef Nico Simone and his popular Six by Nico restaurants which offer up affordable tasting menu concepts.
After its lockdown success, Christmas by Nico is back with a dinner for two.
The four-course meal can be accompanied by wine and a Scottish cheese board for an additional cost.
Boxes are delivered on December 22 or December 23, and guide you through the cooking process to create a full Christmas meal with all the trimmings and spiced sticky toffee pudding for dessert.
The box costs £100 and has a vegetarian alternative available to order on their website, too.
Contact details: Call: 0141 732 0024 or Email: customersupport@home-x.com
---
Scottish Gourmet Food – Inverness, Scotland Wide
Delivering a slightly different selection, Robin and Celia at Scottish Gourmet Food in Inverness are offering a dinner for two Gold Xmas Hamper.
A hamper with a range of Scottish produced foods including truffles, soup, coffee, chocolate, chutney, cakes, pies, steak, wine and more, it really is a deluxe experience.
Priced at £110 this hamper can be ordered for Christmas dinner or sent as a gift to anyone anywhere in the UK.
Furthermore, they have a range of hampers available as well as the options to build your own customised hamper.
Contact details: Call: 01667 451051 or email: info@scottishgourmetfood.co.uk
---
For more on Christmas…