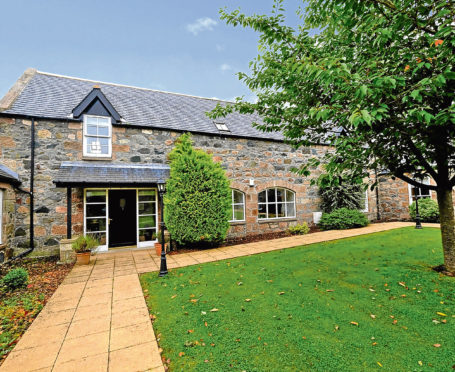 The Aspey family are very well travelled, with wooden bookshelves filled to bursting with well-thumbed guidebooks for tropical locations around the globe.
From Italy, to Asia, to New York City, Lyndsay and Michael have been racking up the air miles – and the guidebooks – for more than 20 years.
And this weekend – for their 20th wedding anniversary – it's Paris.
With the latest travel guide sitting on the kitchen table ready to be marked with must-see sights, Lyndsay confesses that for all their love of travelling, it's always nice to come home.
And home for the Aspeys is just outside the small village of Chapel of Garioch, in a fabulous converted steading called The Granary.
Set as part of a quirky courtyard development, the five-bedroom property offers modern luxuries alongside a range of traditional features, and is where the Aspey family have called home for the past 17 years.
"Before it got converted it was a huge old farm building for a farmer just down the road," said Lyndsay, who works as a teacher.
"One side of the courtyard was for storing grain and the other was for cows.
"We actually came across the property as it was being developed so we got to have some input into the layout.
"The fact that it was in Chapel of Garioch really suited us.
"My husband Michael is from The Wirral and had lived here briefly in the 1980s when he moved up to Aberdeen for work.
"He always wanted to move back and I'm from Inverurie myself so it suited us both perfectly."
The modern family home has been the ideal place to raise their two children, Miles, 12, and 11-year-old Zack.
And any visitors get an enthusiastic welcome from family dog Lola, an excitable one-year-old Newfoundland puppy. But with the arrival of their two boys, Lyndsay and Michael found that lack of storage space was becoming an issue.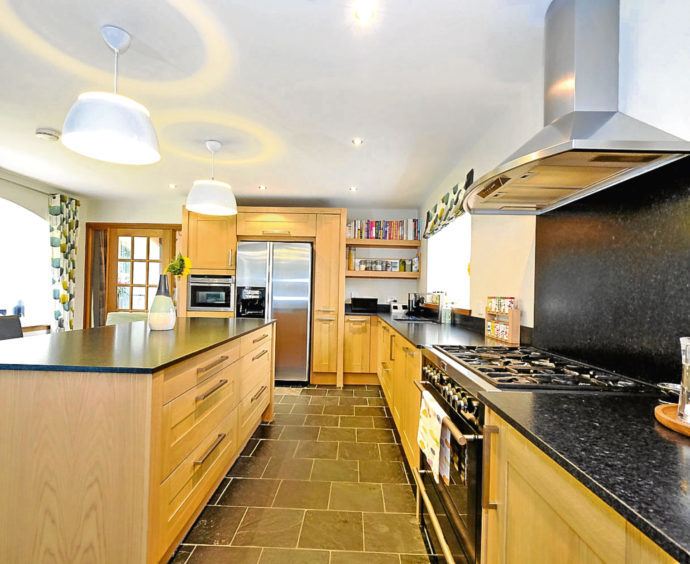 As a result they decided to build a small extension eight years ago.
"We wanted it to be just off the kitchen and able to keep things like boots, coats and laundry," said Lyndsay.
"Originally it was just a small project, but we ended up digging out the whole drainage system and redesigning the kitchen too.
"We took out a huge chimney which jutted into the room and the project just kept expanding.
"In the end it took nearly four months to complete.
"It was being done over winter and I remember we had knocked through the wall to create a new window.
"But the glass wasn't in it yet so we just had a blanket stretched over the opening and somehow the whole house was freezing because of it."
The work was worth it however, and has created a generous utility and boot room as well as a versatile kitchen diner and family space.
There is ample unit and worktop space, with the infamous new window now offering lovely views over the surrounding countryside.
The Aspeys currently use the central island as part of their kitchen table, using the additional space adjacent to it as a casual lounge area.
However the space is very flexible, and by removing the corner sofa and adding a stylish dining table, the layout of the room totally changes.
If you prefer a more formal area to entertain guests, there is a dining room next door which is currently being used as a playroom for the boys.
The hallway leading to the lounge is a fabulous chic space, with modern wooden floors and views of the fountain in the central courtyard.
The lounge itself is great place to relax, featuring cathedral-height ceilings and exposed beams which hark back to what the old barn once looked like.
Upstairs the master bedroom is of a generous size, with fitted storage and an en-suite.
Two further bedrooms and the family bathroom are just along the hall.
There is also a generously-sized guest suite, where at the moment Lyndsay keeps her favourite hobby.
"Before I was a teacher I used to make wedding dresses," she said, eyeing the sewing machine.
"I did a degree in textiles and my cousin asked me to make her wedding dress.
"It expanded from there and I've made thousands of dresses over the years.
"Now I spend my time making bespoke curtains and patchwork quilts mostly."
Examples of Lyndsay's work can be seen throughout the house, adding little personal touches here and there.
But the family have ambitions of an even more personalised home, and are set on building their next property from scratch.
"We really fancy building our own house or doing big renovation next," said Lyndsay.
"Doing the little extension here kind of inspired us, and we renovated a property in Cullen a couple of years ago.
"I am obsessed with watching Grand Designs on TV.
"We will be sad to leave here though, the area is so lovely and the neighbours are fantastic.
"We all mucked in together clearing away all the snow we had recently.
"And there is even community chickens nearby."
Offers should be made in the region of over £390,000.
Contact the landlord on 01467 681507.