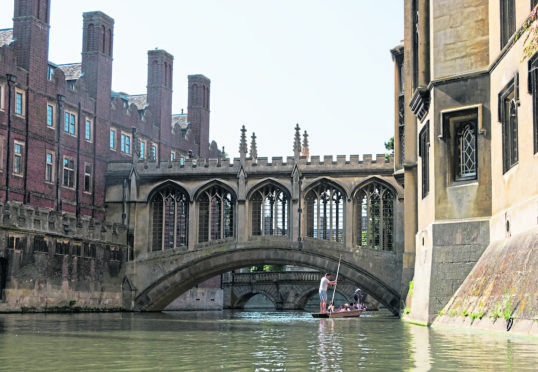 Imagine waking up to discover your car hoisted on to the roof of a 70ft-tall building. That's what happened to one unlucky Cambridge professor, when he awoke one morning in 1958 to find his Austin Seven on top of the university's Senate House. Resulting newspaper headlines generated curiosity, outrage and sniggers nationwide.
"They only found out who it was 10 years ago," says my punt chauffeur and tour guide Keiran, as he ably pushes us along the River Cam, a strenuous activity responsible for his Marvel-superhero biceps and a mental bank of Cambridge-related trivia.
England's prestigious university town basks in its glorious past and revels in tradition. Urban myths are venerated like passages from the Bible, and as we glide along the shallow river, where bridges arch proudly and willows fountain into the water, stories unfold.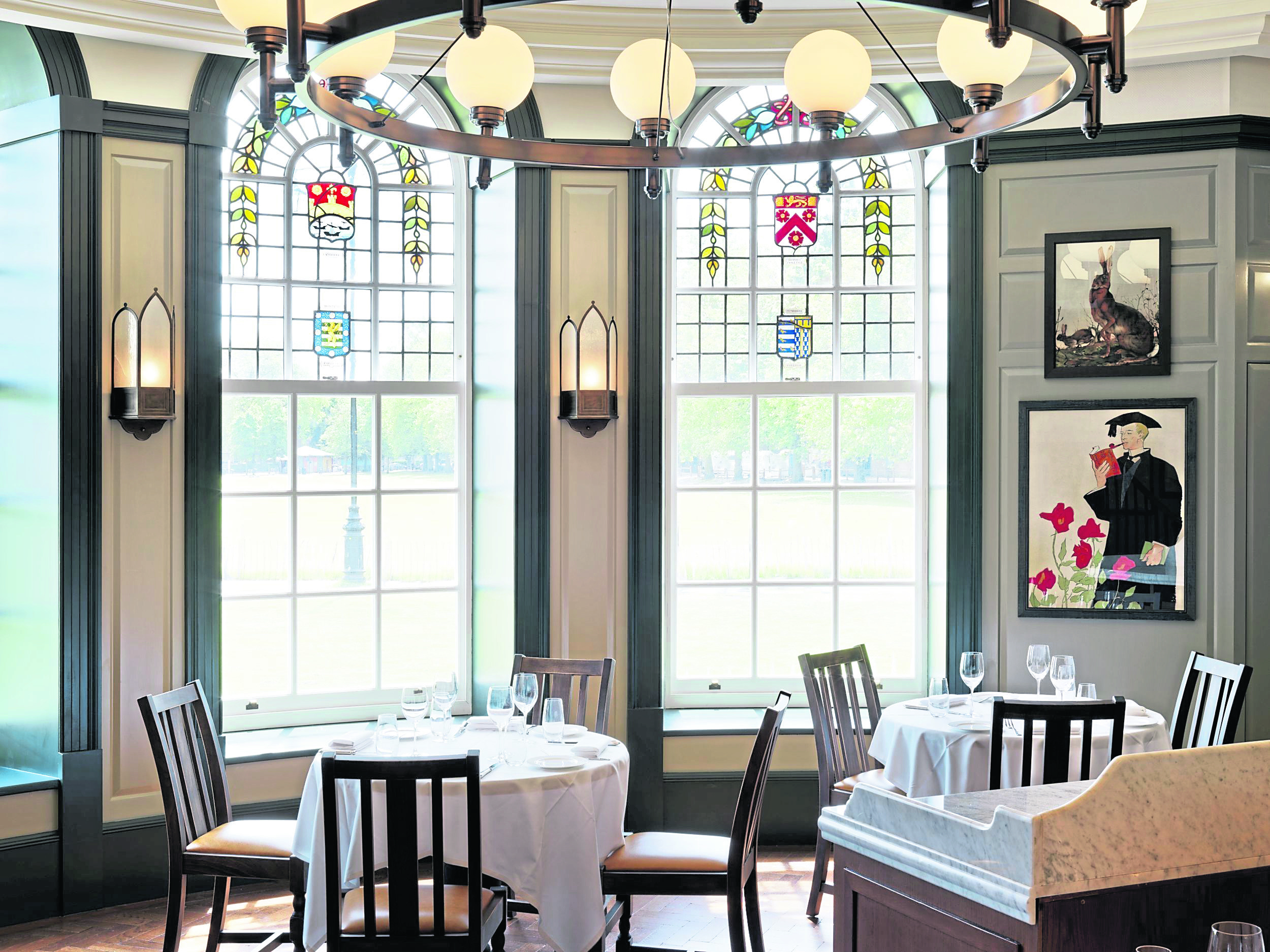 There's the anecdote of a window tax, which led to the phrase "daylight robbery", the proud claim a first manuscript of Winnie The Pooh is cosseted in the Wren Library, and the controversial suggestion that Prince Charles, a Trinity College alumni, may have achieved lower grades than his bodyguard.
A work hard, play hard ethic is clearly at the heart of this city – and that spirit has been embodied by one of the few historic buildings which doesn't belong to the university.
Originally opened as a 15-room coaching inn in 1834, the University Arms Hotel has recently undergone a two-year, £80m transformation, and is now one of the few places where it's possible to sleep, eat and drink the Cambridge University lifestyle without needing to attain a single grade.
A property with a story to share
Overlooking Parker's Piece, a public green where the rules of football were supposedly invented in 1848, the hotel has always been a fixture of the cityscape.
"We have elderly couples who used to dance in our ballroom," explains one of the receptionists, who's worked here for years. "This was an important part of their lives."
Telling that story – and creating future chapters – was central to architect John Simpson and Swedish interior designer Martin Brudnizki, commissioned by new owners Marriott to oversee the renovation.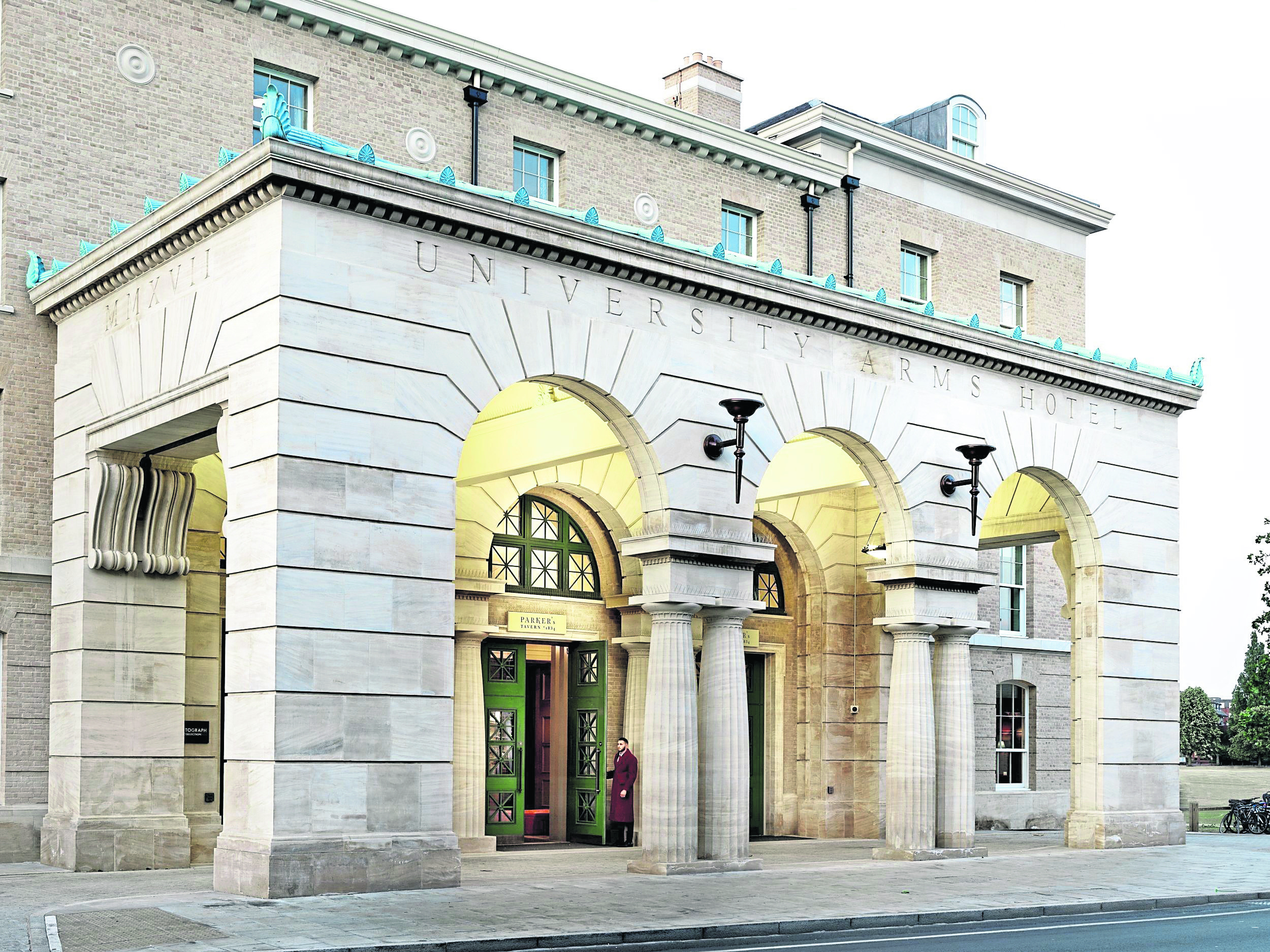 In the main bar, wallpaper with marbled swirls of colour has been designed to mimic a book inlay; bespoke crockery also celebrates key moments from the area's past, with illustrations of football players, rowers and Newmarket sausages (the Queen's favourite, apparently).
In the library – a lounge area with velvet armchairs, dimly-lit table lamps and studded leather pouffes – a grand wooden fireplace has been relocated; the stained glass windows in Parker's Tavern restaurant are original, and the wooden parquet flooring in hallways is all reclaimed.
Although he never visited the hotel, Sir Winston Churchill casts a stern black-and-white stare from a photo frame behind the reception, and neatly-tailored woollen staff uniforms have been modelled on his famous boiler suit. The association is crucial – celebrating the best of British is what the University Arms is all about.
Wining and dining
A standalone restaurant with its own entrance, Parker's Tavern is a bistro-style set-up intended to look like a communal college dining hall. Chef Tristan Welch, who hails from Cambridge, has designed a very British menu using locally-sourced products where possible; a plate of sashimi features slices of fleshy trout from regional rivers and accompanying wasabi and soy sauce is made on the premises.
In the next-door bar, signature cocktails also have a story to tell. Sir Jack's Bat, a smoky powerhouse of rum, mezcal, fennel and bitters, was inspired by the great English cricketer who practised on Parker's Piece, and The 1848, a complex mix of rum, chartreuse, lime, basil and honey, pays respect to the Cambridge Rules, which would later form the foundations of "the beautiful game".
Guarantee of an intelligent sleep
Linked by corridors carpeted in the navy and red stripes of the university's emblematic tie, 192 rooms are spread across four levels.
The largest floor areas can be found in the suites, all named after great Cambridge academics. I stayed in the Franklin suite, which pays homage to Rosalind Franklin, who discovered the structure of DNA.
Duck-egg blue walls and metal latticework wardrobes tickle a sense of nostalgia, and the inclusion of an iron and ironing board is wonderfully old-fashioned.
Even if my IQ falls short of the Cambridge average, I'm still able to appreciate this city's charm and the enduring appeal of a much-loved hotel.
You don't have to be a genius to work that one out.