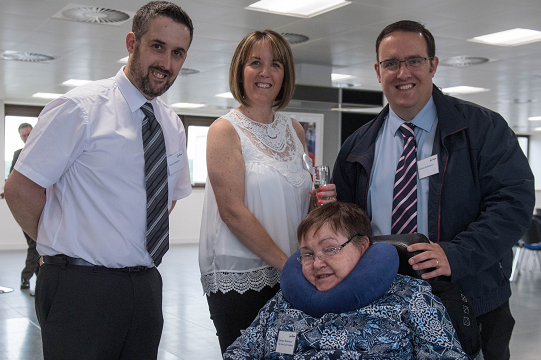 A north-east woman has described how she and her mother "got their lives back" thanks to Scotland's only purpose-built neurological centre.
Kathleen Robertson, from Ellon, was diagnosed with multiple sclerosis in 2007 and her daughter, Lesley Marshall, watched helplessly as her mum's condition gradually deteriorated to the stage where she spent her days watching TV and sleeping, barely able to leave her sheltered housing.
However, the family received a "fantastic" pre-Christmas present when Mrs Robertson, 64, was told a place had become available at Sue Ryder Dee View Court in Aberdeen.
And, since moving into the facility, which provides round-the-clock care, her life – and that of her children, Lesley, Bruce and Donnie – has improved immeasurably.
Ms Marshall, 42, a personnel assistant at Morrisons in Inverurie, said: "I was out Christmas shopping and received a phone call to say mum had been allocated a place at Dee View Court.
"It was such brilliant news and we felt like the lucky ones. There were plenty of tears.
"Since my mum moved in at the start of January, it's like we have won the lottery. Mum has got her life back and we have too. I just wish we had found this amazing place sooner.
"There are other people like my mum, sitting at home alone watching TV all day, who deserve a better life. She's not just a person in a wheelchair, she's a nurse, and a mum and a granny as well. Being diagnosed with MS, or other neurological conditions, doesn't mean it's the end."
The Kincorth-based Sue Ryder centre currently caters for 24 residents with a complex range of conditions.
But it has just launched a £3.9million capital appeal to accommodate another 20 people by 2019.
And, as a means of showing their gratitude for the organisation, Ms Marshall and her brother Donnie are taking part in the Great Aberdeen Run in August in aid of the Dee View Court appeal.
She added: "When I visit, I see people who are going through difficult times and they never moan about it.
"If they can do that, why can't I do a 10k? My mum and the other residents are an inspiration.
"Seeing mum have the specialist care she needs as well as taking part in so many activities is wonderful. From baking cakes to making greetings cards, eating homemade meals with other residents, and reading the newspaper in the morning together – it's all the simple things.
"But they mean so very much to us.
"Me and my family are going on our first holiday in years where we don't have to worry is mum is OK. She's even cancelled her Sky TV subscription, which says a lot."