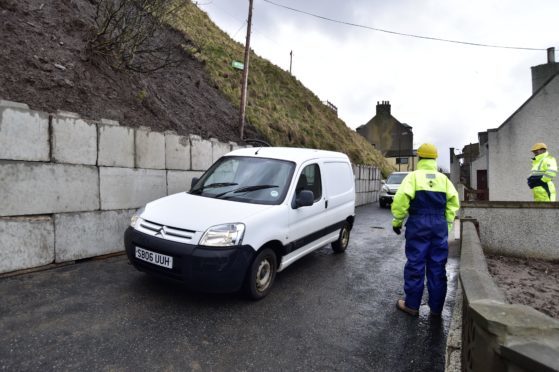 A beleaguered north-east village that has been battling landslip problems for months is facing yet another setback.
It was hoped that Gardenstown's Harbour Road would be reopened permanently this weekend.
But specialists working on the crumbling cliff face above the vital route have said it is not yet safe to do so.
The road is open to vehicles between 8am and 6pm today and tomorrow and 8am to 1pm on Monday with local authority staff manning the link.
But hopes of full access have been dashed after the council's contractors said there was still a risk of more of the cliff face toppling down.
It has left one community leader feeling "sick and tired" about the "completely unacceptable" situation.
Andy Sturdy, secretary of the Gardenstown village action committee, said the council were not prepared to open it without supervision despite working with tourism agencies to encourage visitors to come to the village.
He said: "To us it is completely unacceptable because they are still saying it is a risk that there would be a slippage that might cause fatal injury.
"At the moment the council is unable to give us any time scale for when it will be reopened permanently.
"I'm sick and tired of it.
"It is now beyond Easter when we were promised that we would get opening and of course now there are a lot holidaymakers in the village and the car parking is even worse."
Colin Wallek, who lives in Gardenstown's lower half, said: "We thought we saw an end to it, but there has been some kind of muck up.
"It is a really big let-down.
"There is no danger from the slip, not now they have the retaining wall up."
Troup councillor Hamish Partridge also wants the road permanently reopened without the need for supervision.
He said: "There's definitely a frustration building because of the promise that was made and it seems to have been broken."
Aberdeenshire Council's Head of Roads, Landscape and Waste Services, Philip McKay, said: "Unfortunately, the situation in Gardenstown continues to be a complex one, which will not be quick or easy to resolve. It has been further complicated by the most recent slip and while we have tried to keep the community informed of progress, things have changed and we have had to review our approach. However, there is absolutely no hidden agenda.
"We had hoped to have an interim safety regime, based on remote monitoring of the slope, in place from today that would have allowed the road to be reopened. However, we have had to reconsider the level of safety that could be achieved by such a solution and are now reviewing updated advice from our geotechnical engineering consultants to determine the most appropriate way forward."