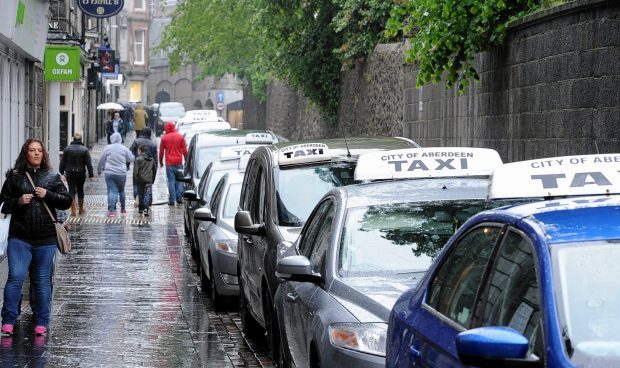 Councillors have been urged to throw out a potential scheme for training Aberdeen taxi drivers on helping disabled people, customer service and using sat nav systems.
It had been suggested that a mandatory course for all city cabbies could improve the service and lead to higher safety and satisfaction levels among passengers.
But a new report has recommended that the licensing board do not proceed with implementing any "formal" training programme as there are no local providers that could cover the training and that further expenses would "not be viewed favourably by the trade".
While other councils carry out similar schemes at local colleges, it has been suggested that elements may be incorporated into current Aberdeen taxi tests.
The beleaguered city trade could face further competition from Uber, who were granted a licence to operate in the city a year ago but are still to put cars on the streets.
---
---
Aberdeen's taxi drivers are also in limbo over a long-standing legal battle over whether the city's entire fleet should be made wheelchair accessible.
The council in 1994 signed an agreement stating its aim of a fully accessible fleet – but last summer it was agreed to delay implementation again for at least five years.
There have also been concerns raised about customer service provided by drivers with six complaints of poor service currently being investigated by the authority.
But in recent years the trade has also suffered significant struggles following the downturn in the oil and gas industry, with drivers working longer hours to make ends meet.
The report to councillors reads: "Though drivers are not employees of the local authority, they are often a visitor's first point of contact with the city and therefore can influence the opinion of visitors, or indeed residents, if a poor service is provided.
"There are currently in excess of 1,200 licensed drivers, however, which would suggest that the vast majority are providing acceptable service.
"While a training programme would be desirable, evidence would suggest that the issue is not causing any particular concerns at present and the imposition of a further expense on potential drivers may prove counterproductive if standards can be maintained by other methods."
Derek Davidson, a driver in the city of 20 years, said: "I have mixed feelings about this really.
"I think there are a lot of good drivers in the city but there are definitely drivers who could benefit from a bit of customer service training.
"I think it would be a good idea if some of it was incorporated into the other tests we do."
Ron Holding of the city's Disability Equity Partnership raised concerns that if the training was just incorporated into existing programmes it could prove "toothless".
He added: "We know that now every penny is a prisoner but I would feel putting a bespoke programme would be a good investment.
"I would make undertaking the training a condition of getting a licence."
Hazlehead, Queens Cross and Countesswells councillor Martin Greig, however, welcomed the "sensible solution".
He said: "I don't think we should be adding to the burdens of the taxi trade.
"We would all benefit from increasing our awareness of disability issues but this requirement would unnecessarily add to the pressures of the industry!"