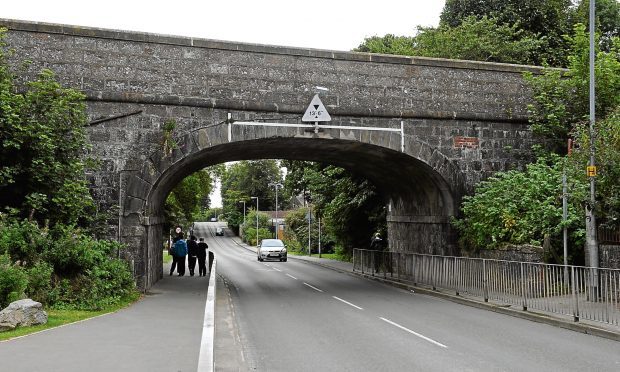 A busy commuter road in Stonehaven could be lowered to allow buses and other high vehicles to safely pass under the railway bridge.
Stagecoach Bluebird suspended the operation of its double-decker buses on the Slug Road following an accident three years ago in the Highlands.
In November 2016, the roof of one of the firm's double-deckers was ripped off after it collided with the underside of the A9 Inverness to Thurso road bridge by Kildary.
Following the incident, the company carried out a risk assessment of all of its routes that travel beneath bridges.
The study confirmed a risk in Stonehaven, and double-deckers were immediately stopped from going under the rail bridge on the Slug Road.
In the years since, the town service – partially subsidised by Aberdeenshire Council – has been run on a single-decker.
Next week, councillors on the Kincardine and Mearns area committee will be asked to consider lowering a section of the Slug Road by 7.8 inches – which could cost almost £500,000.
Officers have estimated with the reinstatement of Stagecoach's double-decker services going beneath the bridge, there "could be recurring annual savings of between £10,000 and £50,000".
A report by infrastructure services director Stephen Archer suggests if the project is approved, the road would be shut between Academy Road and Westfield Road for "no less than three weeks" for the works.
However, the report did identify "particular risks", such as problems with the bridge foundations, buried utilities and road drainage, which are "quite likely" and would potentially result in a "significant uplift in the cost of, and timescale for, the works".
A spokeswoman for Stagecoach North Scotland said: "We would be fully in support of this work as the height restriction creates operational challenges for us in Stonehaven with the vehicle types we can on our routes in the town."