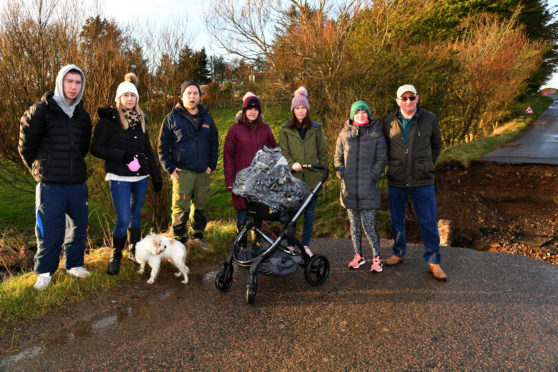 A rural community fears being "cut off" from the emergency services after Aberdeenshire Council  said replacing bridges destroyed in recent flooding would be too expensive.
People living in the King Edward area, near Banff, say their daily routines have been turned upside down since torrential rain washed away seven crossings at the end of September.
The local authority has now advised that it can not afford the £1.26 million bill to replace six of those lost in the storms, sparking fears about the emergency services being unable to reach certain properties as quickly as possible.
The South Mains bridge on the B9105 Fraserburgh to Turriff road was rebuilt as a matter of urgency, as the B road is regarded a "strategic link to the east of Aberdeenshire".
But a new report prepared by engineering bosses, which will be discussed by the Banff and Buchan area committee on Tuesday, states that the six remaining structures have been "damaged beyond repair".
And councillors have been asked to offer feedback on a proposal not to replace them.
King Edward resident, Samantha Philip, said her weekly spending on fuel had "doubled or tripled" since being forced to take longer routes to get out and about.
And she raised concerns about the potential safety implications of not replacing the ruined bridges.
She said: "It feels like we've been forgotten about.
"It's really concerning, especially at this time of year, and I'm worried about what would happen if someone here were to need an ambulance and it wasn't able to get to them in time."
Local businessman Euan Murdoch, of Murdoch Plumbing and Heating, echoed those concerns and said residents had already "suffered long enough".
He also outlined the impact on his business, as suppliers have struggled to reach his base at Newton of Foulzie with parts.
Mr Murdoch added: "For suppliers who don't know the area too well, they'll go to one bridge, find it is closed, then their satellite navigation systems will take them to another – only for them to find it closed, and then another that's also closed.
"I've had jobs that have been cancelled because of this. It's a real pain for everyone here on a day to day basis."
The report acknowledged that the area had been "split in half" by the closures, but said it was "difficult to clearly define the cost to the community".
It added: "However, the diversions associated with all the bridges is relatively short, with 9.3 miles being the longest, and they impact on a relatively small population."
The report also states that there could be a "positive cost benefit ratio" of replacing the C51L/10 Bruntyards bridge, at a price of £35,000, and the Bridge of Gorrachie for £270,000.
Councillors will be told that replacing those structures would also "significantly reduce the effect of the loss of the Bridge of Fortrie", and suggested upgrading nearby roads to compensate for the loss of others.
But the papers state: "There is currently no available funding within this budget for the six King Edward area bridges."
And engineers have warned that "extreme storm events" such as Storm Frank are "likely to become more frequent and severe".