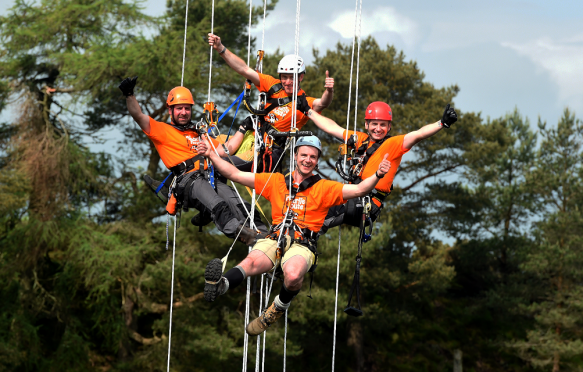 A group of technicians have scaled the height of Mount Everest on vertical ropes to raise cash for north-east children's charity Charlie House.
The four men from two companies cumulatively climbed 29,035ft of hanging ropes at a training facility at a quarry in Tyrebagger, on the outskirts of Aberdeen.
Peter Rhodes and Kevin Mottram from Sparrows group, alongside Ray Liversidge and Tilo Philips from Array Training ascended the lengthy ropes an estimated 200 times to complete the challenge.
Together, the team have a combined 57 years of rope access experience, but Mr Rhodes said their task was unlike anything they had ever accomplished.
He said: "Our teams use these ropes every day for our jobs but we have never done anything on this scale before.
"The average height we climb for work is around five metres (16 feet) so this was a massive challenge and something we trained for."
Operating from Aberdeen, Charlie House supplies support for children all over the north-east with complex disabilities and youngsters diagnosed with terminal illnesses.
The organisation provides families of such young people with trips to adventure parks, a monthly Saturday event club and support both in hospital and at home.
Mr Rhodes continued: "We have received a fantastic level of support and it is a privilege to be able to raise funds for such a fantastic cause that does so much for families with disabled children in the region."
So far the team have raised more than £600, but are aiming to rack up even more cash for Charlie House.
To donate to their fundraiser, visit www.justgiving.com/kevin-mottram and to find out more about Charlie House visit www.charliehouse.org.uk