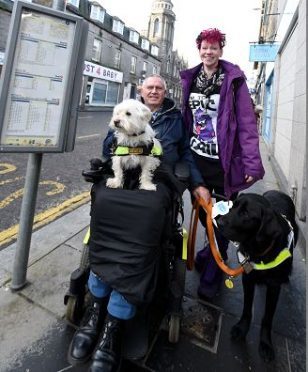 A disabled couple have argued that better bus design is more important than legal action to force buggies out of wheelchair spaces.
Blind wheelchair user Bob Kirk and part-paralysed Ells Mchaffie are regular bus users around Aberdeen with their assistance dogs Gordon and Alfie.
The pair welcomed a recent Supreme Court ruling that bus drivers must demand buggies be removed from spaces reserved for disabled passengers.
But they claimed, in a plea to transport bosses, that the only lasting solution is to make sure buses have the capacity to accommodate both.
Mr Kirk and Ms McAffie have frequently been unable to board because people refuse to fold buggies – and once ended up stranded at the beach for two and a half hours.
They eventually ordered a taxi after three buses in a row came and went with the disabled space occupied or someone before them in the queue taking it.
"It was horrible," said Bob, who is very active despite losing his sight and mobility to a form of cerebral atrophy.
He is delighted with a new vehicle introduced by First Bus to the 12 route that serves their Rosehill homes and wants more introduced as soon as possible.
It has three rows of fold-up seats and no central pole.
Ms McAffie, who suffers from hemiplegia and walks with a stick, added: "You could get three pushchairs in and a wheelchair and several dogs.
"It just so happens it is on our route, but it is not on often."
She added: "Even if we have the law on our side now, it is up to individuals. If they really do just refuse to do anything to help us, we are stuck."
A First Bus spokesman said the company was keen to talk to the couple to see what more could be done to help them.
He added it was the industry leader in accessibility, with 45% of its Granite City buses now boasting additional space – a requirement for new vehicles since 2012.
And he stated: "We were the first bus operator to sign the RNIB's bus charter and we work closely with other bodies, including Disability Action Alliance, to improve accessibility."
Following the receny court judgment, its drivers are now under instruction to inform customers, who refused to move, that they were "required" to give up the place to a wheelchair user.