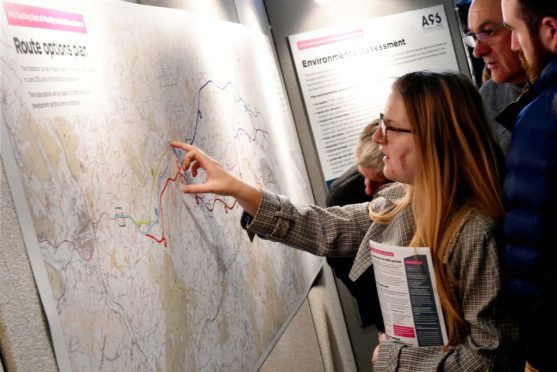 Campaigners were celebrating last night after plans to take a major north-east road past an iconic landmark were withdrawn.
Transport Scotland is currently consulting on its proposals to dual the A96 Aberdeen to Inverness road between Blackburn and Huntly.
---
>> Keep up to date with the latest news with The P&J newsletter
---
But one particular route prompted outcry, as motorists would have been taken through Bennachie, just feet away from the visitor centre.
The Save Bennachie Alliance was launched calling for the option to be scrapped, and yesterday – just as the first public consultation got under way – Transport Scotland confirmed it had been dropped.
Linda Bain, from the group – which presented its case to Holyrood last month – said she was pleased at the decision and thanked supporters from across Europe, America, India, Japan and New Zealand for getting involved.
"We set out to raise public awareness through the Press and Journal and others, and we are just hugely relieved," she said. "Our supporters have been wonderful, just fantastic.
"But Bennachie speaks for itself.
"It shows just how well loved it is, both within and outwith the area."
She said the group would now continue lobbying Holyrood on one of the other options that goes past Inverurie on the south side.
"Firstly, it encroaches on a special landscape area, and secondly, it doesn't solve the traffic problems in Inverurie," she said.
"So while we are relieved about Bennachie at the moment, we don't think it's over until it's over so we'll be remaining as a group until we know that Bennachie is completely safe.
"We'd still like people to the exhibitions and fill out the response forms."
Transport Scotland is hosting a three-day public exhibition on the A96 dualling plans.
Within hours yesterday, hundreds of people had flocked to Inverurie Town Hall to discuss the options with the consultants and put forward their views.
Confirming the Bennachie option had been withdrawn, Transport Secretary Michael Matheson said: "The Scottish Government has given a clear commitment to dual the A96 which will see delivery of around 88 miles of upgraded road between Inverness and Aberdeen, a huge task but one we are committed to delivering.
"As part of that work, we are taking forward the design work for the 26-mile stretch of the route between east of Huntly and Aberdeen and now we are able to let people see the initial options we have developed for this chllenging section of the A96.
"A number of options have been deselected at this stage as a result of existing topography, engineering complexity and environmental impact. This includes those near Bennachie and those through Inverurie on the existing A96."
Aberdeenshire East MSP Gillian Martin, who joined the Save Bennachie Alliance when they met Mr Matheson at Holyrood, welcomed the news last night.
She said: "The Save Bennachie group have campaigned tirelessly and shown true passion and dedication for their cause.
"I commend them all for a campaign which has been time-consuming and shown commitment and determination.
"Their hard work has paid off."
North East MSP Mike Rumbles said: "I'm delighted that the Scottish Government has decided to remove possible routes for the A96 that would damage the natural environment around Bennachie.
"The option to divert the dual carriageway south of Inverurie and over the foothills of Bennachie should never have been on the table in the first place."
The public exhibition will be at Inverurie Town Hall again today, before moving to Stewart's Hall in Huntly tomorrow and Kinellar Community Hall in Blacksburn on Thursday. They all run from noon-7pm.