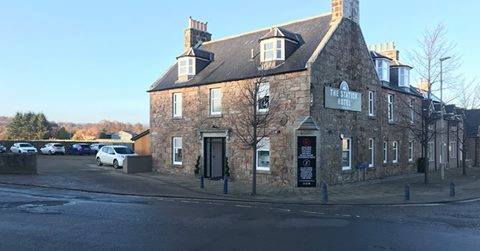 A north-east hotel which has been empty for eight years and suffered a petrol bomb attack during efforts to refurbish it has finally re-opened its doors.
The Station Hotel in Insch, formerly the Carriages Hotel, is now back in business after undergoing a wholesale renovation.
Having shut down in 2011, the premises were bought by Jackie and Colin Cruickshank in April 2016. But then, last year, just months away from  its re-opening, the building was nearly destroyed by a petrol bomb.
A five-litre container of fuel with a strip of cloth tied around its handle was thrown through a window, but fortunately didn't ignite.
Speaking to the Press and Journal, Jackie Cruickshank said: "It feels surreal to finally have it open again. We had to pare the whole building back to just the bare outer walls.
"We never doubted that we would get there, but the extent of the work was huge.
"It was always a question of 'when' rather than 'if.' But every day it was closed was a day where we were spending money and not taking any in.
"Although I knew we would get there, some days you do question yourself, and part of me can't believe we have finally got to this stage.
"There are times when I stop and think: 'Goodness, we've done it."
Mrs Cruickshank expressed gratitude for the backing the venture has received from residents in the area.
She added: "The support we've had from the local community has been fantastic.
"It's great for people to have some choice again as to where they go and it's something they have been looking for for a while.
"At the moment, we are really trying to get the word out, so that people are aware that we are open again."
The Station Hotel serves breakfast, lunch and dinner, and is situated directly opposite the Aberdeen to Inverness rail line.