Thousands of people have voiced their opposition to plans to scrap a north-east bus service.
Last week Aberdeenshire Council announced it planned to slash 27 subsidised routes from the timetable as it attempts to make more than £22 million of savings to balance its books for the year ahead.
Incuded in the proposals would be the end of all Sunday trips on the Stagecoach Bluebird 201 route between Ballater and Braemar.
The move has sparked outcry in the Deeside area with 1,200 people signing a petition against the proposal, including an American woman who claimed to have visited the village several times when she was reliant on the bus because she could not drive.
Alasdair Colquhon, chairman of the Braemar Community Council, will hand over the petition to council leader Jim Gifford prior to today's budget meeting.
He said: "We all understand that public sector budgets are tight and savings have to be made however the decision is based on historic usage of the route which has been poor and Braemar is now the place to be having attracted literally millions of pounds of private investment.
"We would like Mr Gifford to understand the strength of feeling and the risk posed to our economy which is why we are inviting him to receive the petition in person."
Campaigners say the move will hamper the ability of both tourists and locals to travel easily in the area if they do not drive, as well as the staff in the newly reopened Fife Arms Hotel, many of whom depend on the bus to get to and from work.
Aboyne and Upper Deeside councillor Geva Blackett, who has lived in Braemar for more than 25 years and is also on the Cairngorms National Park Authority Board, branded the decision "laughable".
She said: "Following the huge volume of concern demonstrated to me in the past week I really do hope that the council's administration find some way of ensuring we have a regular and appropriate Sunday bus service this summer and I will certainly continue lobbying for all round support on this front from both officers and colleagues."
Mr Gifford said the need for bus services would be continually reviewed and did not rule out it being re-introduced should demand grow.
"The reality is the service was looked at, albeit a year ago, and it was costing us huge amounts of money and not a lot of people were using it," he added.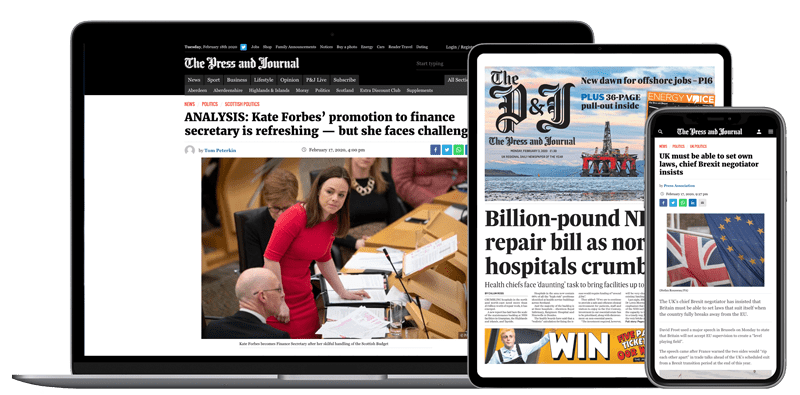 Help support quality local journalism … become a digital subscriber to The Press and Journal
For as little as £5.99 a month you can access all of our content, including Premium articles.
Subscribe