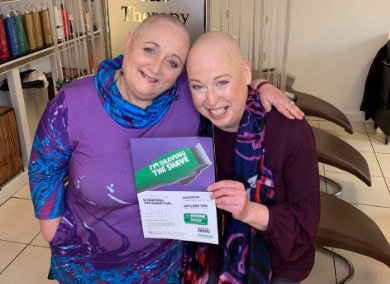 An Inverness woman who Braved the Shave in honour of her cancer-stricken friend has spoken of her gratitude after raising more than £1,000 for charity.
Audrey McKay shaved her head on Wednesday in support of her close friend of more than 11 years Stella Fraser, who has been diagnosed with terminal cancer after nine years of being in remission.
At The Therapy Suite in Inverness, more than a dozen people turned out to watch her conquer the challenge and help her raise the amount of money in aid of Macmillan Cancer Support.
Reflecting on the evening "full of humour, laughing and giggling" Ms McKay said she was thankful the pair could share the moment together.
She said: "As the time went on and it got nearer and nearer I got really apprehensive about it but actually sitting there and my friend Stella took the first couple of shaves with the shaver. She was worse than me I think – it was totally nerve wracking for both of us.
"I wanted her to do the first cut because I thought it was very symbolic of our friendship. It wouldn't have been right for her to be there and for someone else to do it."
Her efforts have so far raised more than £1,000 with donations continuing to flood in for a cause very close to their hearts.
Ms McKay said they were grateful for the public's support.
She said: "It's beyond what I could have wished for to be quite honest and the fact that it's going to Macmillan nurses who go in to help Stella is great.
"Stella and I are so grateful that all these people put their hands in their pockets at this time of year."