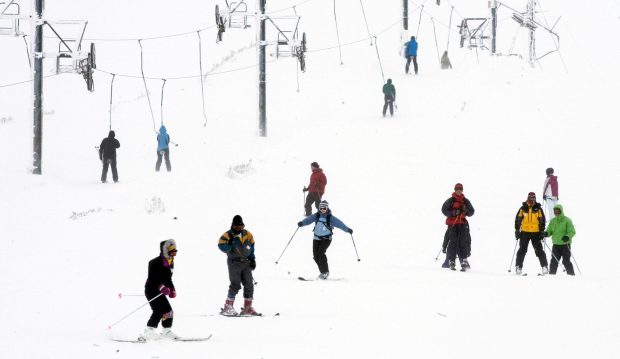 Scotland's winter sports resorts have suffered one of their worst seasons.
A lack of snow, strong winds and mild weather all affected the five resorts – and some were hit harder than others.
Glencoe Mountain was the last of the centres to remain open, but it shut to skiers and boarders on Sunday – it had hoped to make it through to Monday, but were thwarted by the conditions.
Andy Meldrum, of the Glencoe Mountain resort, said that while not the worst season in the centre's history, it was among its top three poorest.
Susan Smith, of Cairngorm Mountain, described the recent winter conditions as "unprecedented in recent times".
Glencoe, Nevis Range, Cairngorm, Glenshee and the Lecht used snow-making machines to keep lower slopes open.
Mr Meldrum, who is chairman of national body Ski Scotland, said 2018-19's winter had been challenging for Glencoe Mountain.
The resort was able to open on December 1 using its snow-making factory.
But Mr Meldrum said: "Natural snow didn't arrive in any volume until the beginning of February and even that only hung around for a couple of weeks before melting again.
"Snow then returned in mid March and we had a decent run of things closing for the season on 21 April."
He added: "It won't be the worst season but it will be up there in the top three poorest seasons with less than 10,000 skier days for the winter.
"The 2016-17 season was the worst season in history and we had just 4,600 skier days. This season we had 9,500."
A skier day means one person who skis or snowboards on one day. Many of the same people return to the slopes several times during the season.
Glenshee in Aberdeenshire was particularly hit by a lack of snow.
Sarah McGuire, finance manager at Glenshee, said recently:"In terms of runs open it is one of our worst seasons. We have only managed 24 days opening this season compared to around 100 in a good year and an average of about 80.
Scottish snow sports boosted the economy by almost £31 million last season, according to latest estimates.