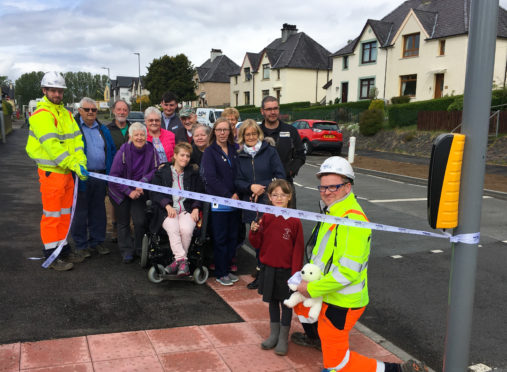 A primary school pupil from Fort William had the honour of cutting the ribbon to officially open a new puffin crossing in Lochaber.
Katie MacSween showed great interest in the work at Corpach, which started earlier this year and saw the Bear Scotland team install a new puffin crossing to improve pedestrian safety on the A830.
Katie, six, waved to the workforce each day on her way to and from Banavie Primary School.
When the project was nearing completion she gave thank you notes to those carrying out the work to express her gratitude 'for fixing the road and making it safe for her'.
The pictures and notes now take pride of place in the Bear Scotland Corpach Depot.
Katie's mum, Emma MacSween, said: "Katie decided she wanted to do something nice for the workmen working on the road outside the Corpach Co-operative store and so a few weeks ago she drew a whole load of pictures and wrote a letter on each one thanking them for fixing the road and making it safe for her.
"On her way to school one morning she handed these out to those doing the work. "
Katie herself said: "I really enjoyed watching the new crossing getting built and enjoyed cutting the ribbon today. I can't wait to tell all my friends about it!"
As well as getting a chance to cut the ribbon today to mark the opening, Katie also received a polar bear teddy from the Bear Scotland team.
Duncan Crilley, operations supervisor at Bear Scotland, said: "Our teams are so used to doing works every day that will benefit the local area but we rarely get individual and heartfelt thanks in the way Katie did.
"It really made everyone's day to receive such a thoughtful package of thank you notes and pictures. We were delighted that she could join us to officially open the crossing today."
The new signalised puffin crossing which replaced the existing uncontrolled crossing point near the Co-operative, allowing pedestrians to safely cross the A830, is part of a wider £2 million investment programme by Transport Scotland in 2018/2019 aimed at removing barriers to accessibility across the Scottish trunk road network.