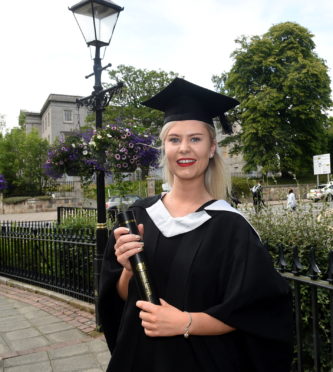 Nicole Menzies hopes to embark on a career in film production after graduating with a first class degree in digital media yesterday.
The 23-year-old, from Drumnadrochit, originally started her spell in higher education at Strathclyde University.
She had begun her first year of study by undertaking a French and Spanish course, but shortly discovered her true passion lay in film.
She said: "I am glad I trusted my own judgement when I decided to switch courses and move from Glasgow to Aberdeen.
"I did not feel settled there, and just knew the course was not for me.
"The process to reapply was extremely easy, so it is a great reminder that it's never too late to have a change of heart."
Throughout her degree, Miss Menzies used various graphic design programmes and practical elements to set her up for her dream career in film.
But before she picks up a camera, she'll be picking up a passport.
The Highlands native has plans to travel for a few months and make the most of the summer in Asia and Australia, before entering working life.
She said: "I am over the moon with my results, I still can't quite believe it.
"My confidence has grown massively over the course of the degree, as I branched out from my small village to experience life by myself in the city.
"I am extremely thankful to everyone, particularly my lecturers, who have supported me along the way. I could not have done it without them.
"I think the mixture of modules prepared my really well to pursue a career in the film production industry, I'd love to work on films in the future."