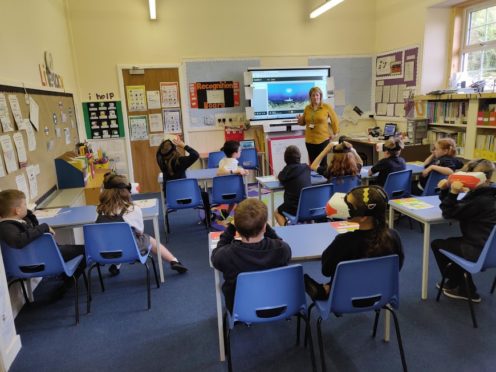 Daviot Primary School is pioneering virtual reality (VR) learning in the Highlands to help raise engagement and increase attainment for all pupils.
The school recently acquired ClassVR – a simple-to-use virtual reality user interface made for education.
Teachers now have the option of preparing structured lessons in a format that will allow pupils to access the subject content using a VR headset.
The heart of the ClassVR interface is the 'holodeck'.
This futuristic 'room' gives pupils a central place to begin their adventures and learning experiences.
Across the holodeck, icons are shown, depicting educational activities, locations or experiences.
Easily accessible through wi-fi, ClassVR gives pupils new ways to experience learning and opportunities to interact and even create their own content for lessons.
By using just their hands and simple head movements, pupils can navigate around the icon, select and launch activities and experience 360 degree images from a safe sitting position.
Judith Pirie, cluster headteacher at Daviot Primary School, said: "We are thrilled to be able to offer ground-breaking VR technology to our pupils.
"VR lessons bring the curriculum to life enabling pupils to visualise and understand a range of subjects and topics that we could not hope to facilitate otherwise."