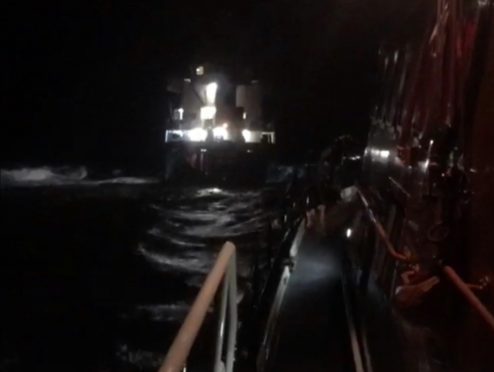 An exclusion zone has been set up around an abandoned large cargo ship which has gone aground on rocks between the Outer Hebrides and Skye.
The vessel, which was carrying Refuse Derived Fuel (RDF) in pellet form, is facing a second day of being battered by storms.
A salvage team was due to arrive yesterday to inspect the stricken ship.
The eight Russian crew of the 295-ft long MV Kaami were airlifted to Stornoway on the Isle of Lewis early on Monday after the baulkcarrier struck trouble in The Minch around 1.50am.
The Stornoway Coastguard search and rescue helicopter was sent and Portree Lifeboat was launched at 2.24am in response to a MayDay call from the cargo ship, which was heading to Slite in Sweden from Drogheda in Ireland.
The MV Kaami has ran aground on a reef, known locally as Eugenie Rock, which in about six nautical miles North West off Duntulm, Isle of Skye.
The coastguard tug Ievoli Black remains by the stricken vessel today, said the Maritime and Coastguard Agency (MCA).
There has been slight pollution, which has been dispersed by the sea, but the situation is being constantly monitored.
All the rescued crew aboard the Bahamas-registered ship are safe and well and have been put up in a hotel in Stornoway.