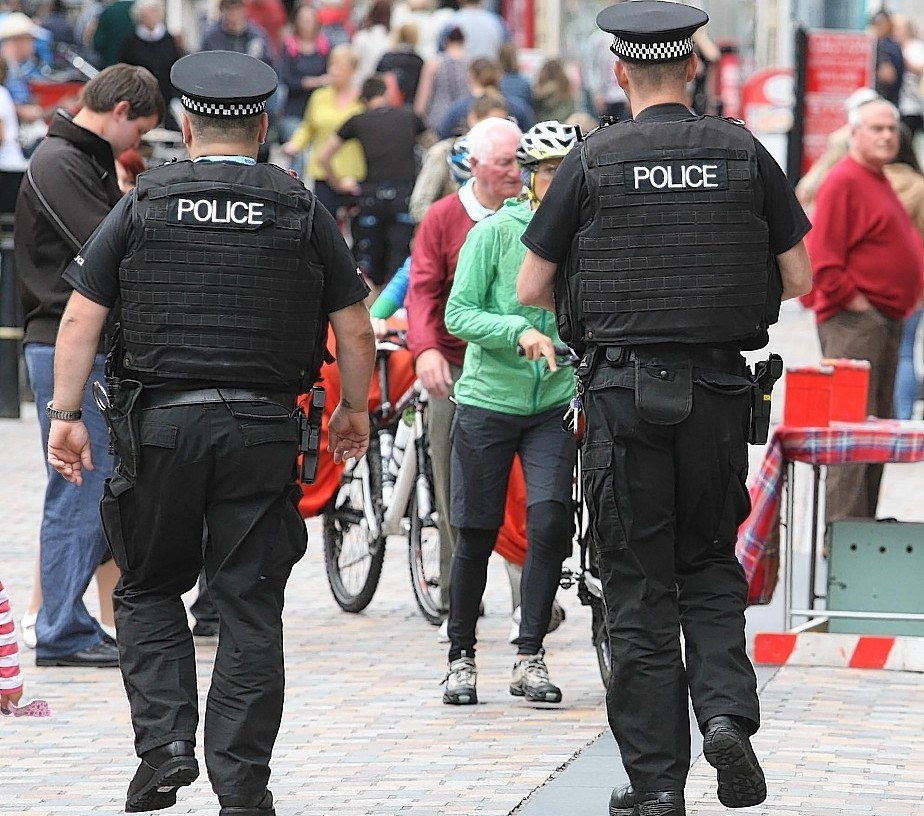 THE head of the police watchdog has revealed his own wife had an alarming encounter with armed officers.
Andrew Flanagan admitted mistakes were made when guns were first carried on routine patrols in the north.
And during a visit to Inverness yesterday he said the "well-intentioned" move had been badly communicated to the public.
Police Scotland faced an angry backlash in 2014 after armed officers were spotted across the Highlands going about day-to-day tasks.
In one high-profile incident officers walked into a baker's shop to buy sandwiches while still carrying their weapons.
The force eventually bowed to public and political pressure and changed the controversial policy.
Under current standing orders, armed police will only be sent to incidents involving guns or where there is a threat to life.
Mr Flanagan, who was appointed chairman of the Scottish Police Authority (SPA) in September, said more thought should have been given to the impact the sight of armed officers would have in small communities.
He said: "I think that the intention behind the armed policing, was… it was well intended.
"It was kind of saying now we are one force what we are seeing is that some parts of the country are better prepared than other parts of the country for an armed incident and we don't think that's fair.
"We think it should actually be that every part of the country should have an equal service so that's a good intention.
"I think everyone would go 'you're thinking of us and it's not a postcode lottery how quickly an armed officer gets to you if you need them'. So that's a positive.
"But then in terms of how we communicated that or how we didn't communicate it, how did we think about the impact on local communities of the visibility with which we were carrying the weapons and how that might play out in different communities?
"So whereas, if you walked through an airport and you saw an armed police officer, you actually feel quite reassured by that.
"If you walk into Greggs to buy a sandwich and there's an armed police officer then you would have a different view of that."
Mr Flanagan, a former media executive and chief executive of the NSPCC, said his wife had encountered armed officers in an everyday situation – and the presence of weapons had made her "slightly anxious".
He said: "An anecdote which I tell is before I even heard of this job, my wife had a flat tyre on the motorway and she had our son with her, who was still quite young.
"Within two minutes of her having a flat tyre and stopping a police car pulled up behind her.
"So her immediate instinct was one of relief, and then when they got out the car they were armed.
"And she said to me afterwards, in an instant you go from a relief to slightly anxious that someone is going to walk up to you with a gun.
"I think we could have better anticipated that and realised that the perception of armed officers in certain places and communities could actually create a bit of an issue and therefore what other options did we have.
"Should we have locked arms in their cars, should the weapons be discreetly carried on their person?
"There are options we should have explored for different communities and a more sensitive approach to that could have done a lot of good."
However, he added that he felt public opinion on armed officers may have shifted following the terrorist atrocities in Paris in November last year.
He said: "Now post-Paris people think if it's going to take two hours to get an armed police officer to me then I'm really worried, so the climate changes there as well."
Chief Superintendent Elaine Ferguson, operational support division, said: "Armed Response officers respond to firearms or threat to life calls or where the deployment of armed officers is considered appropriate, they are also expected to react to crimes and offences which they come across during their patrols.
"There is no routine arming of police officers in Scotland.
"A small number of officers – 275, which is fewer than two per cent – are available 24 hours a day, seven days a week to keep people safe.
"Officers volunteer for this specialist role so that all communities have the same level of access to this specialist support no matter where and when the need."