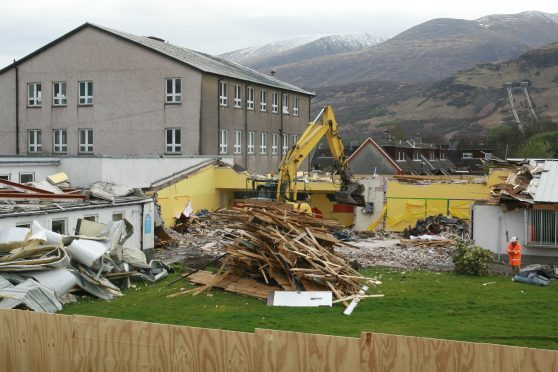 A community group which provides support and advice for the disabled and elderly claims its concerns about a new housing development are being ignored.
The Lochaber Disability Access Panel has formally objected to Highland Council's plan to build 60 new homes, including accessible houses, on the site of the former Lochyside Primary School near Fort William.
Members stated that vital access information is missing from the design documents and people in wheelchairs won't be able to use the corridors.
Work started this week to demolish the school buildings, but panel members maintain that, despite repeated requests for a meeting to discuss the matter, they have had no response from council officials.
Chairman Arthur Cowie said: "According to protocol, established in 2012 between the council and Highland-based Access Panels, we should receive pre-planning advice on major developments, but the first we heard about this one was when we received the council's weekly planning application submission list.
"I think building 60 new houses is quite major and, apart from one phone call from the architect's department last month, we have heard nothing.
"The planning people in Lochaber have been very helpful, but they can't force officials to come to the table."
The panel's concerns about the development include: no dimensions on the design statement showing the width of pavements or where drop kerbs will be placed; access to buildings appear to have steps leading to them and a storage room to keep medical equipment has not been considered.
Panel members who are wheelchair users have also stated they could not negotiate the corridor width shown in the drawings.
Maurin MacDonald, the panel's vice chairwoman said: "It will save the council a lot of money if they sit down and talk with us as issues like these will have to be changed once the houses are built. We were told that accessible homes will be adapted to the needs of the individual allocated a house, but some people have complex care needs and these will have to be addressed."
A Highland Council spokeswoman said: "This current planning application is still under consideration. We are aware that the Access Panel has responded and has taken this opportunity to raise their concerns. No decision will be made on determining the application until the South Planning Applications Committee meeting in June. Councillors will then be able to discuss all issues raised during the planning process before making a decision."