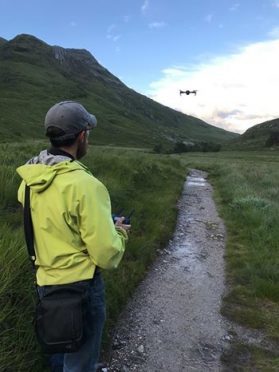 A Highland Mountain Rescue Team is using aerial technology in a bid to find lost, injured or missing climbers more quickly.
The Lochaber Mountain Rescue team, LMRT – the busiest in the UK – used a drone, or unmanned aerial vehicle, UAV, to assist them with two mercy missions on Ben Nevis.
Two members of the 40 strong team have undertaken official training to operate the drone and it is hoped to put more people through the course in the coming months.
LMRT leader, John Stevenson, said: "The drone can photograph gullies that are very difficult to access. It is especially useful when there is overhanging rock which makes searching very difficult.
"The camera quality is excellent and it can pick out things that are tricky to see with the human eye.
"We first trialled a UAV when we were looking for Rachel Slater and Tim Newton who were sadly caught in an avalanche on the Ben after they set off on a climb on Valentine's Day weekend last year.
"It is hoped having this technology will help us in our search for the hillwalkers, Eric Cyl and Tom Brown, who both went missing in 2015, as well as others who have been missing even longer."
The team used the drone to help with two rescues last week. It located three doctors who became stranded on a crag on the Long Climb on the Orion Face of Ben Nevis in dreadful weather conditions after spending the night on the mountain. They were about 650 feet below the top of the route and a LMRT member was lowered over the crag to reach them.
It was decided it would be easier for the other rescuers to pull them up to safety and all three managed to walk back down the mountain.
It also located a female climber with a leg injury on Sgurr á Bhuic. As there is no phone signal in this location, it meant that the stretcher party could go straight to the casualty.
Mr Stevenson added: "We went out to Glen Nevis and programmed the drone to search Five Finger Gully on the Ben. We then used special software to stitch the photographs together to create a 3D image so we could check the areas covered by the drone back at base.
"It really is a time saver as you can look at the photographs and see exactly where people are.
"The drone will definitely be a help to the team."