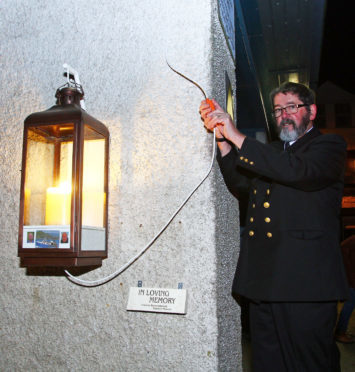 A sonar scan of a sunken fishing boat is to take place today after an emotional ceremony at the weekend, as a community awaits for two men lost at sea to be brought home.
The bodies of Duncan MacDougall and Przemek Krawczyk are believed to be aboard the Nancy Glen, which sank in Loch Fyne on January 18.
Fellow crewman John Miller was rescued by a passing vessel following the capsizing of the prawn trawler.
The boat is now sitting below 330ft near Barmore Island, Tarbert, Argyll.
Nicola Sturgeon pledges to do "everything possible" to recover tragic fishermen
On Saturday night a large candle was lit by the quayside in Tarbert, where it will continue to burn until the bodies of the men are recovered and brought home to their families. Both are married with two children.
Matthew Ramsay from the Fishermen's Mission, who lit the candle, said: "It was very touching."
Hundreds of villagers took part in the vigil, where a prayer was said by Catriona Hood from the Church of Scotland.
Rev Robert Macleod of the Tarbert Free Church and Kenneth MacNab of the Clyde Fishermen's Association also spoke.
Rev Macleod said: "There was a very big turnout, it was quite moving to see so many people there. It was a reminder of how the sinking of the Nancy Glen has touched not just the immediate families but the community as a whole. The mood was quiet and reflective."
Members of the community have launched a massive fundraising drive to support the families and pay for the wreck to be raised, if the Marine Accident Investigation Branch (MAIB) decides not to.
The campaign #TT100bringtheboyshome has already raised in excess of £200,000.
Kenneth MacNab, chairman of the Clyde Fishermen's Association, said: "There was a big crowd. It was something that quite a lot of people thought should be done, light a candle. We will extinguish it once they are returned.
"On Monday the MAIB will do a side scan sonar search of the boat. I think they are putting down an ROV to try to get some footage and see what angle the boat is lying at, and show the way the fishing gear is lying if visibility is good enough.
"Not much will be happening until that is done. They are not keen to lift it, but once this is done they will say one way or the other. They will let us know quite quickly I would think, then we will see where we go from there."