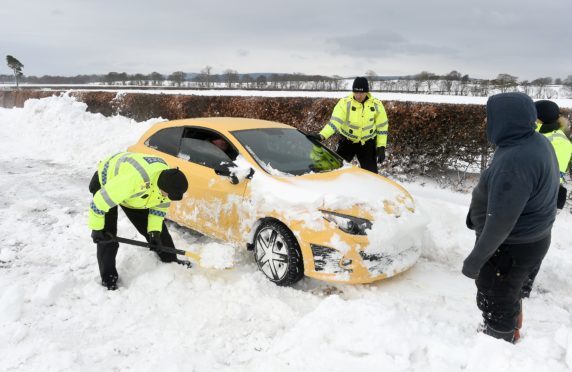 Trapped cars, broken-down trains, and closed schools cause 24 hours of chaos across the Highlands as the region remained in the grip of the Beast from the East.
A walker in Moray was winched from woods beside the River Spey after getting lost.
At least eight vehicles were stuck in drifting snow overnight near the Easter Ross villages of Arabella, Nigg and Balintore.
Most had been freed by 9am this morning, but officers were still coordinating efforts to dig out at least three vehicles well into the afternoon.
Police kept working to free the cars despite the bitterly cold conditions with winds gusting up to 21mph creating a wind chill factor of -6C.
Efforts to clear the small road that runs between Hill of Fearn and Arabella were conducted by local contractors using a JCB and a tractor fitted with a plough.
Officers believe that some of those who got trapped the previous evening were Nigg workers who had been let off early to avoid getting stuck in the bad weather.
David Francis, 45, from Arabella had returned to try and rescue his car after he drove straight into a snow drift.
He said: "It was about half seven last night, I was just driving along and I came to a sudden halt, that's it.
"I had a van with me as well so I got a lift home in the van, we managed to get through with the van just never got through with the car."
He added: "So we just picked up the car this morning that turned into this afternoon as you can see, hopefully it's still all in one piece."
Also near Arabella, a train ground to a halt early on Friday morning after entering a snowdrift that dislodged electrical cables.
Scotrail later cancelled all services on the Far North Line for the day as conditions worsened sharply north of Evanton.
No food delivery, milk or mail lorries were able to reach Wick and for the second day running there were no daily newspapers delivered.
Schools across Moray and the Highland Council areas were badly affected with the wintery weather closing 112 in total.
The closures meant that almost 13,500 pupils across both regions were able to enjoy an early start to the weekend.
The Highland Council confirmed that 79 primary, secondary, special and nursery schools were closed or partially closed disrupting classes for 7400 pupils.
Moray had 33 schools shut or only partially open for pupils who could safely make it to class seeing over 6,000 pupils at home for the day.
Also in Moray, a walker in his 60s had to be winched from woods beside the River Spey after getting lost.
The man had been walking from Fochabers to Garmouth for three hours when he lost his bearings and, fearing for his safety, called the coastguard at 1pm.
A coastguard spokeswoman said: "The man had passed the Spey Viaduct at Garmouth when he found himself in a sparsely wooded area and became disorientated and very cold."
The walker was found at 2.35pm.
A police spokeswoman added that officers helped coastguard personnel to trace the man, who was later taken home without coming to any harm.
With police advising people not to take to the roads the council updated the public on closures across the area.
Easter Ross routes were still affected by drifting snow with work ongoing to keep priority routes open with increased resources for evening treatments has been arranged.
The only road that remained closed yesterday afternoon was the A835 Ullapool to Ledmore but access was improving to ancillary routes.