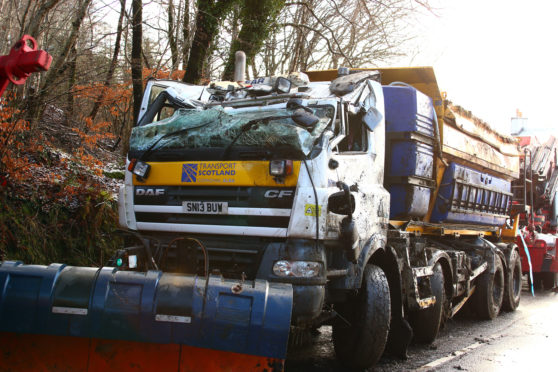 A gritter driver had a lucky escape after his vehicle went off the road and overturned in sub-zero conditions.
It happened around 3.30am on the A828 near the Old Inn near Appin, Argyll as drivers worked tirelessly to treat roads ahead of the influx of commuters this morning.
Temperatures had dropped to around -3C in the area overnight.
Gritter operator Bear Scotland sent personnel to the scene with the decision made to attempt to recover the vehicle once the night had parted and more favourable weather conditions ensued.
They returned this lunchtime to recover the vehicle.
Our picture shows the severely damaged truck but a spokeswoman for Bear Scotland confirmed that the driver was uninjured.
She said:  "One of our gritters went off the road on the A828 near Appin at around 3.30am overnight. Thankfully, our driver was uninjured though is understandably shaken following the incident.
Gritter driver taken to hospital after vehicle overturns on icy road
"No other vehicles were involved and we're carrying out a full investigation to establish what caused the accident."