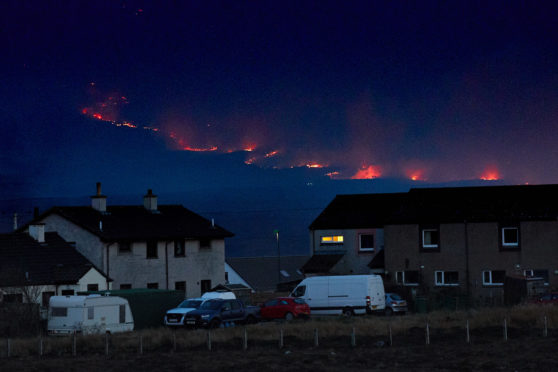 People who were evacuated as a wildfire spread close to their properties in Sutherland have been allowed to return to their homes.
Five residents from 11 properties at risk near Durness were shifted and taken to nearby hotels late on Monday.
They returned at just after 9pm.
Firefighters battled for the fourth day the huge blaze in "tinderbox" conditions – only finally leaving at 4.20am this morning.
Six fire appliances were sent with crews from Ullapool, Wick, Durness, Thurso, Bettyhill and Lochinver.
Some owners decided not to leave their homes at Sangomore, said local Highland Councillor Hugh Morrison, who owns the Smoo Cave Hotel at Durness.
"The fire came within 30 yards of some of the homes – it was only the road that was between them and the blaze," he said.
"A number of people left because of the risk. But some decided to stay. There was smoke all over the place – it was quite a problem.
"The ambulance staff did a fantastic job getting the people away – some of whom came to us. They all later returned with the danger gone.
"The problem is that the wind was so strong – up to 50mph. The ground has been so dry and there has been no way of stopping the fire. It is like a tinderbox. Some of that heater has bot been cut in 20 years – it is not only dry but very long.
"We just hope it does not flare up again. It is perfect conditions for it to spread. It is quite a worry. This fire has been going on since Saturday. The firefighters have done an absolutely magnificent job in really difficult conditions."
Exhausted crews only first left the scene at around 6am on Sunday after a 20-hour battle.
But they returned at about noon on Sunday after the blaze re-ignited across a near two mile front and remained until early yesterday.
The Scottish Fire and Rescue Service is urging the public to be aware of an increased wildfire risk.
Dry and windy weather has been predicted in many areas of Scotland.
Wild and grass fires can start by the careless disposal of cigarettes and barbecues or campfires left unattended.
They then have the potential to burn for days and devastate vast areas of land, wildlife and threaten the welfare of nearby communities.