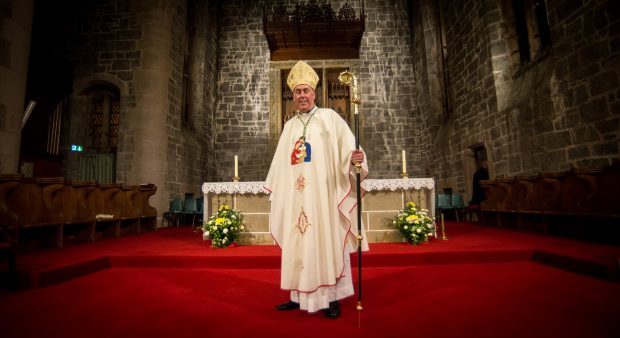 Mass was celebrated during a pilgrimage in the Highlands yesterday to pay tribute to those who kept the Roman Catholic faith alive amid persecution, poverty and famine.
Bishop Brian McGee of Argyll and the Isles Diocese celebrated mass on St Finnan's Isle to mark 250 years of the Moidart Mission.
Moidart is a remote area west of Fort William where after the Reformation, the Roman Catholic faith survived, thanks to the endeavours of occasional missionaries and the deep faith of the laity, especially within families.
In 1769, Father Austin 'Uisdean' MacDonald was appointed to the newly created Moidart Mission.
Father MacDonald walked through the mountains of Moidart in all weathers bringing together small communities for prayer and a sermon, despite a wider culture of intolerance towards Catholicism.
During his ministry, mass centres were built for the 1,200 Catholics in the area, though they were not regarded as churches due to outlawing of the Roman Catholic faith.
A quarter of a millennia later, Catholics gathered yesterday to reflect on the history of Moidart Mission.
"After the Reformation, mass was illegal so there were no churches, but after the priest was appointed within three years he had built three Mass centres," Bishop McGee said.
As Catholicism was outlawed, Catholics would gather in secret with a priest to celebrate mass around mass stones or rocks, which were often taken directly from church ruins and placed in isolated areas.
---
Local and Proud: Follow our new Facebook page dedicated to the Highlands and Islands
---
Bishop McGee remembered the Roman Catholics from the Moidart saying they risked their homes and lives for their faith.
Bishop McGee said: "When Father MacDonald was sent here in 1759 the church must have had a belief that his work in this area was going to keep the faith alive – and we are testament of that today.
"Before that time there would only have been visiting priests from Ireland or further afield, so for this community to have a priest was something.
"A good crowd of us will be celebrating mass on St Finan's Isle and in some ways that is testament to the work of this priest all those years ago.
"It is both humbling and uplifting to recognise that the Moidart Mission not only survived but positively blossomed against a background of poverty, religious intolerance, political distrust by civil authorities for Jacobite areas, famine and enforced evictions."
The festivities will be concluded on Wednesday October 2, the Feast of the Guardian Angels, at Our Lady of the Angels Church, Mingarry.