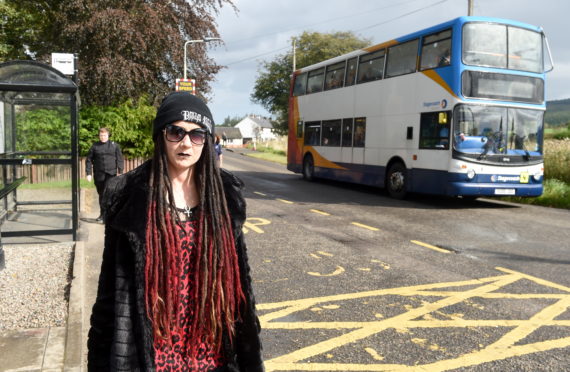 Resident of a Highland village say they are being left out in the cold as Stagecoach's "improved" bus services fail to meet customer demand.
Numerous complaints have been lodged against the transport operator by irate Kiltarlity residents, citing the failure of the area's number 28 service.
Passengers have detailed a list of issues with the service including allegations it regularly fails to run to timetable or sometimes fails to turn up at all.
That has led to claims that residents who rely on the service have been left waiting up to 20 minutes at a time to board or are being left stranded.
There have also been claims of angry exchanges with drivers and, on one occasion,  and allegation that a vulnerable passenger was belittled by a driver.
When the Press and Journal approached Stagecoach with the claims, bosses swiftly reached out to local representatives to arrange a meeting on Tuesday in an effort to find a solution.
They have also pledged to carry out a full investigation into some of the allegations made about the firm's staff.
For Chloe Hardy, 42, delays and missing buses are regular scenarios and she has condemned the operator's service.
She said: "Many communities are facing such problems but some really horrendous things have happened here since Stagecoach took over from D&E.
"My main concern is that some of our most vulnerable members of the community are being put at risk.
"It's one thing for people to stand for 20 -30 minutes at this time of year waiting on a bus but this service is used by people with children, people with health problems and the elderly."
In an attempt to find a solution to the ongoing debacle, around 24 local residents attended a public meeting at Kiltarlity Village Hall last week to raise their concerns about the reliance of transport links in the area.
Despite confirmation that North of Scotland Commercial Director Daniel Laird would take part, he failed to attend – to the annoyance of the village's community council chairman, Norman Grant.
He said: "There seems to be an ongoing problem with the timing and the routes," he said.
"We have also had a few complaints about drivers being really irate with people.
"I have heard of one partially-sighted woman who can't see the bus approaching until it is almost at the stop.
"The driver actually said to her 'you should have been up, standing to stop me'.
"She explained she was partially sighted and couldn't see. A  passenger on the bus said he was mimicking her, which is not very good."
These developments come just two months after David Liston, managing director of Stagecoach North, admitted the company had failed their passengers before pledging to bring about change during a public meeting at Inverness's Spectrum Centre in July.
A spokeswoman from Stagecoach North Scotland said: "We are very concerned to hear of these allegations.
"The safety and wellbeing of our passengers is our number one priority.
"All employees are expected to deliver a high standard of customer service at all times.
"A full investigation will be conducted into the allegations made."
She added: "We actively engage with all communities to ensure our services meet with customer expectations and a meeting has been arranged with local representatives on Tuesday, September 17 to discuss this service."