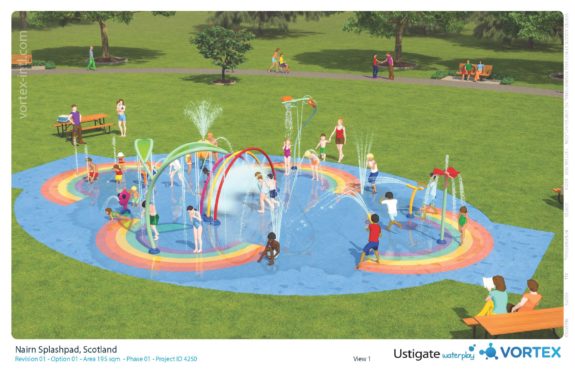 A contractor has been appointed to develop Nairn's old paddling pool into a splash pad in memory of young Hamish Hey who tragically died of cancer aged eight.
The development, which will be the very first of its kind in the Highlands, will see the 2,000 sq ft facility transformed to a play area with sprinklers and jets.
Kent-based contractor Ustigate Ltd has been entrusted with undertaking the project after their £214,350.68 bid proved successful following the public advertising of the contract.
They hope to have the play area operational by summer time.
Susan Hey, Hamish's mother who helped establish Team Hamish in memory of her eight-year-old son, who died in 2017, said she was delighted to see the project take another step forward, allowing a gathering place for people to have fun and remember her son.
Mrs Hey, a former art teacher who has been diagnosed with secondary breast cancerherself, said: "Children are talking about Hamish now, some who did not even know him, and that is just wonderful.
"It is better than we ever imagined.
"We are calling this phase one of our efforts and it really is just the beginning of our vision.
"The splash pad is for everyone in the area and we are hoping it will also bring people to Nairn from further afield.
"It has been incredibly hard for us but knowing that he will be remembered this way, and his legacy will live on is just so lovely."
The project has been jointly funded between Team Hamish, the Nairn Common Good Fund and Highland Council, and comes on the back of extensive community consultation.
Ernie Hemming of Ustigate Ltd said the firm was "delighted" to be awarded the contract for such a "community-driven source and heart-warming cause" that will make Nairn "a bright and joyful place to be for many years to come".
Local councillor Tom Heggie, chairman of the Nairnshire Committee, said it was appropriate funds raised in Hamish's name have been used to "create a functional attraction on the seafront" which he hopes will generate a larger footfall and deliver a different kind of enjoyment.