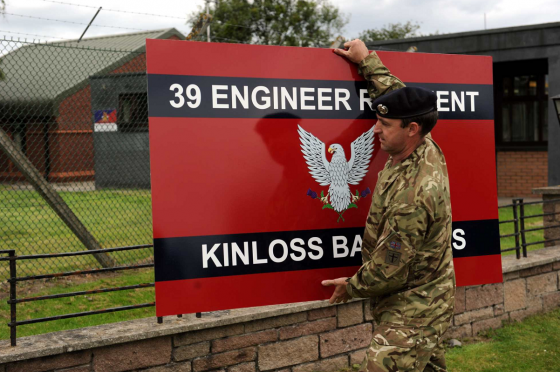 The battle to save Fort George and Kinloss Barracks has been dealt a major blow after a UK Government minister admitted it was "likely" that Scottish bases would shut.
Scottish Secretary David Mundell even suggested that more than one Ministry of Defence (MoD) site could be on the brink of being axed north of the border.
His remarks – made in a letter to Inverness MP Drew Hendry – raised the nightmare scenario of both Fort George and Kinloss Barracks being closed at the same time.
More than 5,000 people have backed the Press and Journal's campaign to save the 250-year-old Fort George garrison, near Inverness, since the threat to its future emerged in June.
Just two weeks ago, it emerged that nearby Kinloss Barracks in Moray was also being considered for closure as part of the same MoD footprint review, despite recent assurances from ministers over its future.
Any pull-out by the Army would cost the economies of the Highlands and Moray millions of pounds a year, and throw the futures of hundreds of personnel and their families into doubt.
Mr Mundell wrote to Mr Hendry after the Highland MP raised concerns about the future of Fort George, and confirmed that the "same number of infantry battalions will be retained" after the shake-up.
But in the letter, seen by the Press and Journal, the Conservative minister also said Scotland should be braced for "some" base closures.
"The Ministry of Defence's rationalisation strategy will examine the entire defence estate across the whole of the UK, with the aim of providing a smaller but more efficient and more sustainable estate," he said.
"Savings made in this way will be used to improve military capability. To this end, a number of announcements of disposal have already been made.
"It is likely that some sites in Scotland will be released for disposal as part of the wider plan which is due to report later this year, but I am unable to confirm whether Fort George will be included as part of this until the report is complete."
Mr Hendry, the SNP MP for Inverness, Nairn, Badenoch and Strathspey, reacted angrily to the response.
"The letter from David Mundell is wholly inadequate and I think most people would find it patronising," he said.
"It fails to give any reassurance over the future of Fort George as an Army base or to deal with any of the genuine concerns that those connected with the base, and in the community have over this ill-judged proposal."
The Moray Economic Partnership group is leading a task-force aimed at preserving the future of the Kinloss Army Barracks.
Its chairman, John Cowe, said last night: "I'm not surprised at David Mundell saying that, but it's important to remember that he has not specified Fort George or Kinloss Barracks as being at risk.
"We have to believe that nothing is concrete as yet, and we will continue to make the point that Kinloss should remain open."
Mr Cowe has written to Mr Mundell and Defence Secretary Michael Fallon to "express his displeasure" that the MoD has not carried out public consultation events surrounding the plans.
First Minister Nicola Sturgeon has also spoken out against the proposed closures, as has film star Hugh Grant, dozens of ex-service personnel and their families, and thousands of local residents.
Kinloss was an RAF base until 2011 when its air operations ceased.
The UK Government subsequently announced that its future had been secured and that personnel from the 39 Engineer Regiment would move there from near Cambridge.
Fort George was built after the Battle of Culloden and has been the home of the Black Watch battalion since 2007.