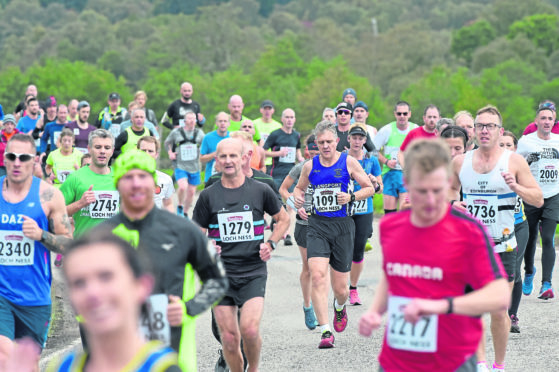 The 17th annual Baxters Loch Ness Marathon and Festival of Running attracted thousands of spectators on what was a windy, sunny and wet day of events.
A total of 8,000 runners registered for all events including the River Ness 10K, the 10K Corporate Challenge, the River Ness 5K and Wee Nessie events.
Renowned as one of the most scenic marathons in the world, nearly 4,000 competitors from as far afield as Africa, Australia, Germany and France travelled to the Highlands to participate.
The route takes runners from the start on the General Wade Military Road, which runs parallel with Loch Ness, via Foyers and Dores and into Inverness as far as Bridge Street.
From there runners doubled back after crossing the River Ness towards the finish line at Bught Park.
Jordanian, Mohammad Aburezeq, from Altrincham and District Athletics Club crossed the line in two hours, 22 minutes and 56 seconds as the first male runner while Sheena Logan, from Fife Athletics Club, was the first female to finish in a time of two hours, 51 minutes and 11 seconds.
The oldest runner to take part in the marathon was Canadian, Roger Macmillan, at 80 years old – who was competing for the eighth time at Inverness, but marking his 110th marathon event.
Race director Malcolm Sutherland said: "It has been fantastic to welcome the many thousands of runners, new and returning, to the Highlands for a weekend of spectacular running.
"The atmosphere at the Event Village in Inverness and spectator encouragement supporting all of our runners has been unprecedented, it's an incredible achievement to complete a marathon and we'd like to congratulate everyone who took part.
"Not only is it a great running event attracting runners of all ages and capabilities from home and abroad but it's a superb spectator event, which brings the community together and draws people into Inverness and the Highlands."
He added: "The event also raises thousands of pounds for our official charity, Macmillan Cancer Support and the many other charities associated with the event. Entries for the 2019 event are now open and we look forward to getting cracking on the 18th annual marathon event."
What did the runners think?
"This is our 11th year running the 10k both of us. It was good, a personal best with 52:16. The weather was good and there was no wind. Some years you are running against the wind and that is cold."
Erin Simpson, 33, an administrator, and Samantha Simpson, 32, project engineer, both of Stonehaven.
Keith Thomson, 50, Nairn, European financial controller.
"I did the 10k which was long enough. It is well organised and there was lots of support around the town so that was really good. It raises money for lots of good causes."
Dwayne Badh, 34, Aberdeen, maintenance superintendant.
"It was difficult in places – it is very undulating. I don't know if I would try it again."
Billy Gibson, 42, Dundee, nurse.
"It was tough with a lot of solo running so it was hard to push yourself. This is my third time, I have not done it for a probably about five years so it was about 10 minutes, maybe 15 minutes longer than the last time I did it. So I am happy with that result."
Louise Shepherd, 31, NPD technologist.
"I was in the 10k coporate challenge with my fellow team mates – The Hearty Heroes – that was our team. It was really good – cold to start with but the sunshine came out which was really good, the course was good and lots of support going round kept you going."
Helen Endle, 28, primary school teacher.
"Today I was running as an honorary member of the Baxter's running team. It was really good, this has been the first 10k that I have done. It wasn't too hilly, which was great for a first timer and the weather was really good."