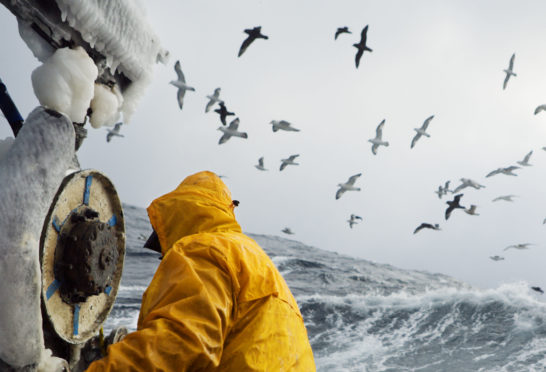 Audience members at Eden Court were taken to the depths of their emotions on Thursday evening as Lost at Sea made its debut in Inverness.
Lost at Sea depicts the "untold war o'man versus the elements" as a young girl desperately searches for answers surrounding her father's death.
Written by Morna Young in 2012, the playwright is the first production of its kind for the Scottish writer. The captivating story was inspired by the loss of her late fisherman father and was produced as personal tribute to the fishing communities across the country.
After returning home to the North-east, Shona (played by Sophia MacLean) finds herself in search of answers surrounding her father Jock's death.
As she begins to seek the help of the fisherman of the community and those closest to her, she unravels some of the families deepest and darkest secrets
As the lights dimmed shortly after 7.30pm, the nine strong cast took to the empire stage portraying the emotional and thought-provoking piece from the depths of their soles.
In the opening scenes, we saw the former journalist beg the help of her community to help 'bring her dad back to her' and through the help of the main skipper (played by star of Outlawn King and River City Tom Dean Burn) she began to weave together the strands of her past.
---
Local and Proud: Follow our new Facebook page dedicated to the Highlands and Islands
---
One partial scene which was quite poignant, portrayed a family gathering involving her grandparents Billy (played by Gerry Mulgrew) and Meg (played by Jennifer Black) as well as Shona's mother Eve (played by Kim Gerard), father Jock (portrayed by Ali Craig) and aunt and uncle Kath and Kevin (played by Helen McAlpine and Andy Clark).
During this scene, the close brothers pledged to buy a boat together in the future and build a successful family business – a life-long dream of Shona's father- sealing the deal with a handshake, saying "you and me, against the sea".
As the story unfolded both brothers took different paths in their lives before taking, what was set to be, their last voyage together.
Through emotional music played by Thoren Ferguson, a member of the Scottish band The Jacobites and various other cast members, it allowed the audience to feel their heartbreak and utter devastation; leaving many in tears.
Through their incredible acting, strong Scottish accents and passion for the story they conveyed, this cast left absolutely everything on the stage leaving the crowd reeling for more.