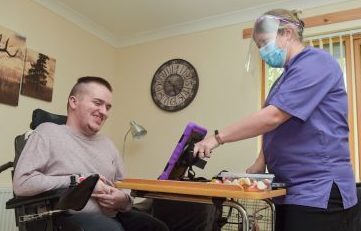 An Inverness home care company has come up with the perfect solution to keep isolated vulnerable people connected with their loved ones.
Contrast Care has used its £2,000 share of a £40 million Scottish Government community support fund to buy five iPads for their staff to bring with them during home visits.
The carers can use their technological skills to connect their clients with family members for a video-chat.
Gillian Mason and her two-year-old son Ben live in Kiltarlity and found a huge hole in their lives after being unable to visit brother and uncle Alasdair, who lives alone in Muir of Ord and is supported by carers.
Ms Mason said: "I work part-time as a staff nurse at Raigmore, and we used to spend a lot of time every day with Alasdair.
"Ben really misses him and doesn't understand.
"When it became unsafe for us to visit, or even see him through the window, we had telephone calls – but it just wasn't the same."
Now with the iPad, the siblings can be connected during the periods when carers are in.
Ms Mason added: "Alasdair's been coping well but I know there have been days when he's been fed up and missing the company.
"The video call opens up much more than a phone call.
"Seeing him I can gauge much better how he really is, it makes such a difference."
Helena Hunt and her 89-year-old mother Rosaleen Brosnan live at opposite ends of Beauly, but Mrs Brosnan has dementia and is shielding so the two haven't been able to see each other since lockdown began.
Mrs Hunt said: "Her eyes lit up when her carer got us connected.
"Mum was alright at the start of lockdown, but she's very sociable and was always out at clubs and church events.
"I could see her start to struggle and she told me how lonely she is. This will make all the difference in keeping her going."
Angela Davidson of Contrast Care said the company had been thinking about using the devices to combat social isolation even before the pandemic.
She said: "Our carers will be able to connect 10 people a day with their loved ones, and the families are so thrilled and excited about it."