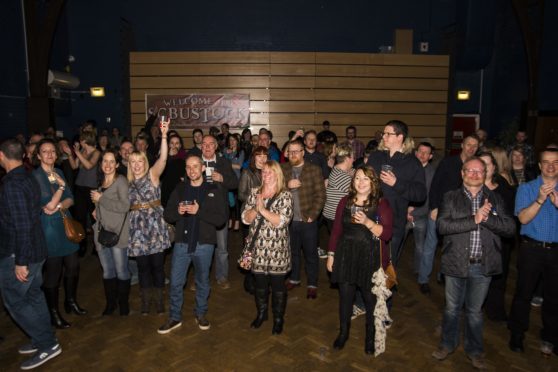 A cheque for thousands of pounds raised for seriously ill babies has been handed over to the special care baby unit (SCBU) at Raigmore Hospital in Inverness.
The £11,146.11 was raised by 300 music fans who attended a gig in February, and the hundreds of others who bought raffle tickets.
The gig, named SCBUSTOCK, now in its second year, was created by Kris and Stephanie Douglas, whose son Sam spent time at the unit after he was born.
Mr Douglas was among those taking to the stage as frontman for Dr Wook and the Voltaic Disorder, with a backing band made up of musicians from a number of well-known Highland bands.
Bands including Woodentooth, The Mystic Shoes, Lional and Sara Bills & The Hasbeens also performed.
A large part of the fundraising was collected through the huge raffle, which was drawn by Gemma Edwards, the mother of 10-month-old Skye who benefited from medical equipment bought with the proceeds of last year's SCBUstock.
Skye, from Inverness, had been flown to Yorkhill Children's Hospital in Glasgow for lifesaving treatment at just a day old.
She was able to return to Raigmore Hospital 10 days later as a vapotherm machine, which heats oxygen making it less painful for babies to breathe, was available.
Mrs Douglas, who is a nurse, said: "It was really appropriate for Gemma to be involved, given her own link to the SCBU ward. We are delighted that so many people again turned out to support us and volunteer their time. We can't thank everyone enough for helping us make the event such a success again."
Mr Douglas said: "We personally know that parents and babies who rely on the Special Care unit are going through what can be the most difficult time of their lives.
"We are so pleased that SCBUstock can help make a difference to tiny babies, giving them the best possible start."