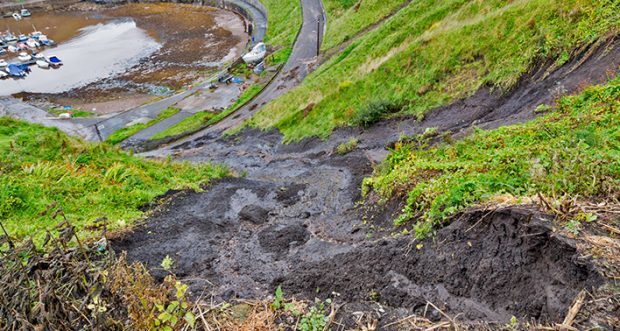 Residents of a Moray coastal village have banded together to protect their homes and roads from future landslips.
Mud, earth and rocks plunged down the cliff edge in Portknockie earlier this month following a deluge of heavy rain.
Now determined locals have banded together to form an action group in the village to campaign for urgent improvements.
Blocked drains have been blamed by residents for causing a surge that poured through streets before crashing into the harbour.
Landslips caused ground to give way at the back of some homes to leave them perched next to a steep drop.
Rob Barsby, who fought rising water levels in his house using a bucket during the downpour, spearheaded a public meeting this week after hearing concerns from locals.
And last night the Hill Street resident revealed he feared homes could fall victim to the landslips if they happened again.
He said: "One of the things I hear is, 'It's a big storm, try and stop that coming down.'
"It's about time that we looked to see if it would have drained away in the first place if the drains were maintained properly. At the moment there's nowhere for the water to go.
"A big worry already is that two houses have already been left very close to the edge where there have been landslips – it might be even worse next time."
Mr Barsby added: "I doubt some of the drains in Portknockie have been cleared out in years – some of them are silted right up. We stay half way down a hill, a lot of water comes past us if it can't get in the drains."
During the heavy rain Mr Barsby and his wife also battled water rising through plugs in their bathroom, which later poured into their living room and hallway.
The landslips overlooking the harbour left roads undermined as the ground that was below them tumbled down the hill.
Residents in the village described the torrents as the worst that have been seen in Portknockie for 60 years.
Keith and Cullen councillor Donald Gatt revealed "emergency" repairs to roads in the village have now been approved.
He said: "The concern is that if there's a big heavy rainfall in the future. Part of the problems seems to be the drains, which have been there since the year dot, and they can't cope with the amount of water that is coming into the village from the ground above it now.
"Part of Harbour Road has been undermined and is looking a bit dodgy so it's good to know work has now been approved to protect it.
"There are four or five areas that have been affected so it's important that everyone's concerns are listened to."
Landslips were also reported near Cullen following the heavy rain.
A Scottish Water spokesman said: "Following heavy rainfall in the area on September 13 a member of our local team attended one property after reports of internal flooding.
"Our initial findings indicate this flooding was not linked to Scottish Water's network.
"Flooding is a complex issue, typically with a number of sources and mechanisms – and periods of intense rainfall can impact upon sewers and road drains.
"We will be happy to work with local stakeholders to investigate any issues that relate to our network in the area."