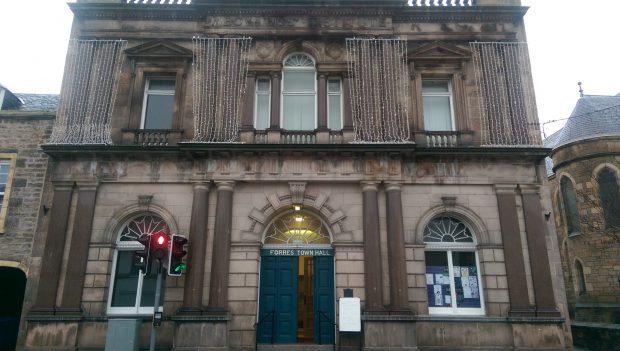 An ambitious £1.9million vision has been unveiled to revitalise a historic landmark in a Moray town.
The Forres Area Community Trust (Fact) is bidding to take control of the town's Victorian Town Hall to safeguard it for future generations.
Fears have been raised the doors could be closed on the treasured building unless it undergoes a major refurbishment.
Yesterday the group unveiled its proposals which would lead to the landmark passing into the hands of the community from the council.
And it is hoped the extensive project could begin before the end of next year.
Under the plans, the current balcony would be replaced with tiered seating to make the venue more attractive for film screenings with extra gallery space. The existing stage would be converted to generate space for up to 20 small offices available to rent.
Fact development manager Debbie Herron said: "It's an amazing place but it really needs to be brought into this century – it's such an important asset to the community that we need to make sure it's here in the future.
"There's been a real shortage of wheelchair accessible office space in the area. I know one group moved away because they were struggling to find somewhere."
Work would also be carried out on the windows, electrical wiring and insulation fitted.
Fact has already submitted documents to Moray Council to express an interest in taking over the building.
If approved, the move would pave the way for the group to approach funders to help pay for the project.
Moray Council's leader, George Alexander, who represents Forres, said: "In my experience, the community runs halls a lot more efficiently than the council.
"If it is outwith the council then it will create more possibilities to help fund it. Community groups have access to funding pots the council can't tap into."
Graham Hilditch, chairman of Forres Community Council, said: "In principal, it looks like a good idea. I don't want to see it close and fall into rack and ruin.
"It would be difficult to sell it off to a developer and I certainly wouldn't want it turned into flats or something similar on the High Street."