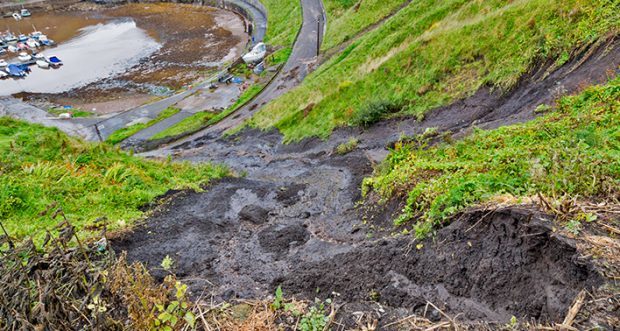 One of Moray's most popular coastal paths has been sealed off amid fears over its condition following a landslip.
The cycleway and footpath between Portknockie and Cullen has been forced to close as it continues to fall into deterioration following flood damage earlier this year.
Moray Council had hoped to keep the route open, pending a detailed assessment of its condition.
The local authority had also hoped to attract external funding to cover the cost of emergency repairs.
But as the path continued to worsen, it has now been blocked off in the interests of public safety.
Council workers have installed fencing and signage to warn walkers and cyclists of the closure, which will remain in place for an indefinite period.
Portknockie resident, Rob Barsby has been monitoring the path over recent weeks and said he witnessed it "dropping each day".
The Walkhighlands guide praises the two mile route's "stunning clifftop scenery".
The path from Cullen takes users past Preacher's Cave, which was used by the Free Church following its break with the Church of Scotland in the 1840s, towards the famous Bow Fiddle Rock sea arch.
Dennis Paterson, who runs the Cullen Past and Present volunteer group, said locals were eager to see the path returned to use as soon as possible.
He added: "The path is never clear, there are always people using it.
"It is a very nice circular route, so people will be disappointed it is now off-limits though we understand it is for safety reasons.
"We just hope that it won't be closed for too long."
Tonnes of rubble tumbled down the cliffs between Cullen and Portknockie in September.
Some Portknockie residents fear that a similar deluge could have dire consequences, as their homes have been left perched on the cliff-edge.
The village's community council has formed its own "flood group", which has pledged to investigate whether poor drainage was a cause of the rising waters.