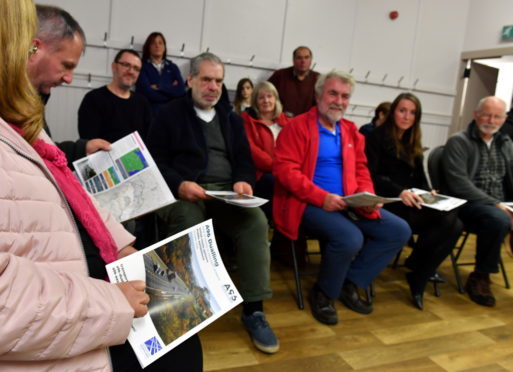 Residents of three rural Aberdeenshire villages met last night to voice their concerns about the proposed routes for new dual carriageway being planned by Transport Scotland.
Whiteford, Old Rayne and Durno would potentially be "split in two" by one of the nine routes that were unveiled last week, by-passing Inverurie as part of the A96 dualling project.
Around 40 people met in Logie Durno's hall to discuss how best to get across their collective voice and also to prioritise the main issues they would face if the A96 was built on the edge of Durno.
A Roman camp, ancient burial sites and a number of listed buildings are all along the route and considered to be under threat.
A Durno resident for 28 years, Gillian Cowlam said she was "deeply concerned" about the impact on the local primary school.
She said: "The road would go right between Whiteford and Durno. They would split our communities in two.
"Not only that, the school children would suffer as they would have no woodland next door to play in. The impact would be huge."
The journey from one village to the next was discussed and one resident, who did not wish to be named, reckoned it would be a five mile trip via the nearest A96 junction.
Old Rayne farmer, George Will said his son had almost completed his new build house, which was granted permission earlier this year and that one route "goes straight over the top of it".
Community councils in the area have been told they will be visited by members of Transport Scotland's environmental teams before the closing date for public comments on the recent plans arrives.
Durno resident Keith Thomson urged residents to make individual comments and added: "We are also trying to form a group response from out villages. We want to give positive feedback and highlight the impact it would have on our community."
Further along the route, at Meikle Wartle, another meeting is being hosted by the Daviot Community group on Tuesday October 30 at 7pm in the community hall.
A Transport Scotland spokesman said: "We are progressing our plans to dual the A96 between East of Huntly and Aberdeen as part of our ambitious A96 Dualling programme.
"Community engagement is at the heart of the development of our projects and last week over 2,000 people came along to view the initial options that we have developed for this scheme.
"We would encourage anyone with an interest in it who has not done so to comment on our plans which can be viewed on the scheme's web page on the Transport Scotland website.
"The vital feedback we receive will help inform the design and assessment work as we look to identify a preferred option next year."
Feedback on the routes can be sent to Transport Scotland up until Thursday November 22 by emailing a96dualling@transport.gov.scot.