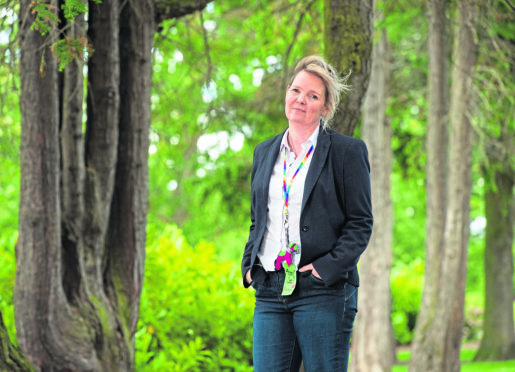 A Speyside mum has embarked on a campaign across the north of Scotland to raise awareness of a deadly genetic illness.
Louise Laing's mother died 11 years ago after being diagnosed with Huntington's Disease, which gradually deteriorates the movement and speech of patients and can also affect their behaviour.
The discovery of the deadly gene in the family, which was not known until then, immediately created a 50% chance of the Rothes mum – who is councillor for the Speyside Glenlivet ward – passing the fatal condition to each of her four children.
Mrs Laing was subsequently given the all-clear but after experiencing the stress of potentially living with the life-changing consequences, she now wants to travel the north to share her story with families in the same circumstances.
She said: "I went through the testing 14 or 15 years ago but I have realised little has changed, certainly in Moray.
"You still need to go to Aberdeen for the counselling before the test and then you are left on your own.
"It's the scariest thing I've ever done. The doctors didn't know much about it. You just find out whatever you can from the internet.
"I couldn't sleep for weeks. It affected my children too because they started to wonder what the point was of going through exams if they were going to have it too."
Mrs Laing, whose brother David has been diagnosed with the disease, has now become an ambassador for the Scottish Huntington's Association (SHA) for Moray and the Highlands.
She hopes to travel to care homes, support groups and businesses in the coming months to raise awareness about the condition.
An Elgin-based support group set up by families is now the most active of its kind in Scotland as it works to increase support and share information in the region.
SHA hopes that families sharing personal stories about the illness will dispel myths about the condition, which was known as the "dancing disease" due to the jerky movements it can cause.
Such symptoms once led to sufferers being burned as witches or locked up in asylums.
Mrs Laing added: "It's still not really understood properly."
John Eden, chief executive of SHA, said: "Although great progress has been made in lifting the stigma of the disease we want to really bring it out of the shadows.
"This is great opportunity for people to help us make a real difference to how it is understood at community level."