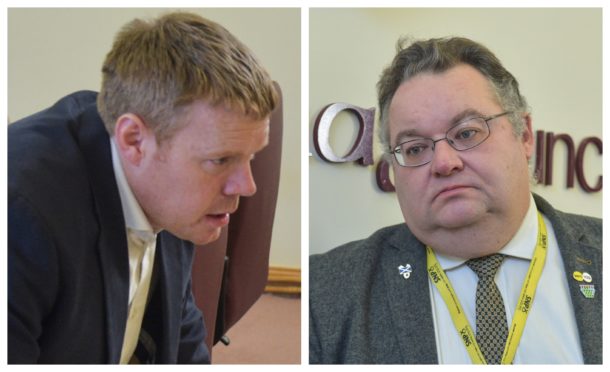 Crunch talks that could result in a political overhaul of Moray Council that would shape the authority's leadership for years to come will be held later this month.
Opposition Conservative councillors have proposed a takeover plan that would lead to the formation of a single executive cabinet – scrapping almost all existing decision-making committees.
The current SNP minority administration has described the suggestion as "undemocratic" due to the potential political balance of the group – but the Conservative group has levelled the same accusation at the existing model.
The opposing arguments that will shape the authority's response to critical issues will be pitted against each other at a full council meeting on October 28.
Warnings political shake-up of Moray Council could derail efforts to address damaging report
Council leader Graham Leadbitter has urged other councillors to reject the proposals to maintain stability in the chambers at a time the financial future remains uncertain.
He said: "During the last two years, under the SNP's leadership, clear progress has been made to address the strategic issues facing Moray Council.
"This is a naked power grab from a Conservative group that walked away from the previous coalition and have since walked away from cross party working on budgets.
"Manufacturing a majority in an executive cabinet when you only have a third of the councillors is totally undemocratic and will leave all of the other councillors with little influence on key decisions."
Talks between Conservative councillors and other members have taken place since the executive cabinet model, which they say will streamline decision-making, was first proposed two weeks ago.
The group is now the largest in the chambers following the resignation of former SNP member Amy Taylor, who is now an independent, last month.
It is understood that some councillors are open to the proposals while others have labelled it as a "stunt".
Conservatives launch bid to take back control of Moray Council with huge overhaul
Conservative group leader Tim Eagle explained talks with other members were shaping what would be tabled later this month – already increasing the number of members from 11 – but denied the political balance of the proposed executive cabinet had been set.
He said: "We made a proposal that matched the concerns raised in the recent highly critical report of Moray Council.
"Since then we have worked with progressive councillors to improve on that proposal and will now be putting forward an administration group of 13 councillors, 50% of the council, with a cabinet model which represents 50% of the council on the executive cabinet.
"That makes our proposal the most democratic cabinet structure in Scotland."